Device Layout:
After unpacking the MobileLite Wireless I got the sense Kingston really listened to customer feedback and put a lot of thought into this device. Construction is quite good; seams are tight and consistent and materials appear durable. Much of what I would expect from Kingston. Also, while I think the original WiDrive was a nice looking device out of the box, I found the shiny surfaces to be a fingerprint magnet. So I much prefer the matte material choice of the new MobileLite Wireless.
On the top of the device you will find the product name "MobileLite Wireless" in the bottom right corner and the Kingston name in the top left corner. On the bottom left corner they have three LEDs. The first is power; it indicates if device is on, that the battery is charging, or that the device is charging another device. When powered up the LED will indicate green when > 50% charge, amber between 50 and 25%, and red below 25%. When charging this same LED will flash green and if used to charge another device it will also flash. The second LED will light Blue when the wireless radio is operating. The third LED will also light blue when the device has an internet connection.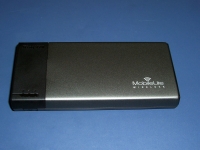 A close up view of the LEDs will reveal the slightly recessed power button on the side as well as a reset button. To power up the device, which takes about 20 seconds, you press the power button down for 3-4 seconds. To enter into charging mode you simply press the power button for about a second and the power LED will flash as mentioned above, color depends on charge left on device.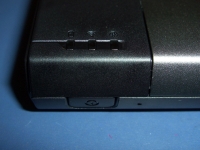 On this end of the device you will also find the two USB ports. The micro USB port is for charging and wired card reader use, the other USB port is for additional storage. The Kingston documentation confirms that the device is compatible with FAT, FAT32, NTFS, and exFAT formatted devices.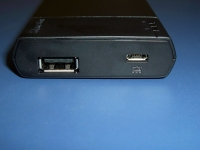 On the opposite end you will find the SD card reader. While Kingston does supply an adapter for micro SD I still would prefer it have its own slot. But in their defense, most people that will be buying one of these are making the purchase because their phones/tablets may not have expandable memory and won't have a micro SD card anyway.