Kidz Gear
was founded by a mother that was tired of buying headphones for kids that were made cheaply and could possibly include hazardous materials. Their solution was to develop both a wired and a wireless set of headphones that were built with adult features, but in a size and price range that was appropriate for children.


This review is going to take a look at both award winning units from Kidz Gear. Before taking a closer look at the samples provided for review, let's take a look at some information on then, as taken from the
official website
.
Wired Headphones
- The first adult-featured stereo headphones made specifically for kids. Manufactured with the same high quality components as those used in standard adult headphones, the Kidz Gear Wired Headphones deliver extremely rich stereo sound quality for all your audio needs - DVDs, MP3s, Game Players, Television, Radio and more. They are a must for children in the car, on the plane or hanging out at home.
Wireless Headphones
- IR Wireless Car Headphones from Kidz Gear. Delivering the same perfect fit, excellent quality and rich stereo sound as our Wired Headphones, but now with total portability thanks to no wires! These headphones are 100% Guaranteed to work with all built-in car DVD/sound systems. Designed with custom sized ear-cups, auto-power off feature, and comfortable padding, your child will be sure to enjoy those trips in the car. You can even use these headphones at home!
Wired Headphones Basics:
The packaging for the wired headphones is designed to fit in at a retail location; bright and vibrant to catch the would-be shopper's eye. The front of the package provides just enough information to get the user interested. On the back we find more detailed information; such as frequency range (20-20,000 Hz), sensitivity (108dB), impedance (32Ohms), and cable length (1.5M).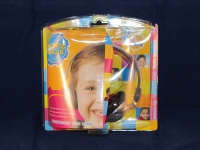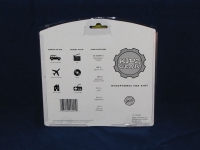 As the above left image shows, the packaging was crushed a little in transit, but the headphones remained undamaged.
On the top of the headband there is no cushion, which would be a nice addition in order to make them a little more comfortable. The below left image shows the headphones in their most compact configuration, while the below right image shows them fully extended. As these are designed for kids, a concern is whether they would fit all kids without causing any discomfort.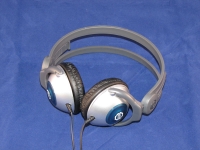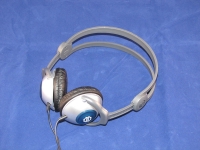 As an adult, I was able to put these headphones on and wear them for an entire day at work; and I was comfortable. The only place that I had a little discomfort was at the top of my head. Thus the reason some padding would be helpful.