Conclusion:
The
KeySmart
Pro Smart Key Organizer With Location Tracking is a novel twist on the typical key ring. It is not only pretty cool to have them in something like a Swiss Army knife, it also a great way to keep them organized. Put them in the order you want them, and separate them into two groups as it makes sense to you - like one side is for work and the other side is for home.
The Tile location tracking feature is a great touch, and it is a very nice implementation of the technology. Most Tile devices are not rechargeable (some use replaceable batteries and others are one time use), but with the KeySmart Pro you can use the included USB cable to keep the location tracking feature of your new key organizer fully charged.


I have two major complaints with the KeySmart Pro, and I feel both could be remedied rather easily for future versions. One, I don't have much trust in the plastic used in the body of the device lasting very long. It twists while I am using my keys and it gets marred when I am opening bottles. I am being as gentle as I can be, but I shouldn't have to think about how I use my key ring. I have also seen a bunch of pictures elsewhere online where people have broken their KeySmart Pros after not owning them for all that long. And my second complaint is that you do not know how long the battery lasts. I am hoping that the LED that glows green while charging will light up another color when close to death, but I am not sure it does. I charge it every week to be safe, but I don't know how low the battery is being run down since I can't find an indicator in the app or on the device itself.
Right now the KeySmart Pro can be purchased directly from KeySmart for
$49.99
or from Amazon.com for
$47.95
While it is not your ordinary key holder, that seems like quite a bit of money to invest in something like this. You can get a four pack of Tile Mate trackers which use replaceable batteries for
$70 at Amazon.com
, so you can outfit four of your existing key chains with tracking technology for about $17.50 each.
After a few weeks with the KeySmart Pro I would say that is definitely a great idea, but I think it needs some more work to perfect the design and make it more reliable.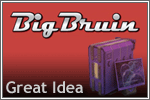 Pros:
» Great idea - novel and practical approach to organizing your keys
» Tile location tracking is great, and having it rechargeable is even better
» Built in flashlight helps you find the key holes
» Includes built in bottle opener, and
other accessories are available separately
Cons:
» Plastic used for body of device doesn't seem very resilient
» Bottle opener is awkward to use and can damage the plastic body
» "Ultra-Bright" is not the right word to describe the flashlight
Please drop by the Bigbruin.com Forum and feel free to post any
comments or questions
.