Conclusion:
I really like the idea of these products and love the form factor of the
Limitless Innovations
JumpSmart, but I still have some reservations about how well these perform in the real world. I am hopeful that the outside lab was unbiased and was able to get this to function on the larger motor, but I think some data would be great. What was the voltage of the test cars battery, what was the outside temperature? Actually; what would really put my mind at ease is if each device came with a test report showing it met the requirements to start a 5.0 liter engine. After all, most people who buy this won't have an immediate need for it. This way you would be putting it away knowing the cells are good and it is fully functional. But even with a test report I would still recommend people carry jumper cables as a safety net. I think these are a great first line of defense but I think you'd be foolish to think they will be all you ever need. This should work just fine if you left an interior light on overnight, but will probably prove to be a paperweight if you leave your headlights on at the airport while you're on vacation.
One other thing to consider is the recharging frequency. Unlike the other device we tested that only required a topping off every 12 months this unit suggest every 3. While you can set reminders to do this, ultimately I wonder how many people will.


While I have my reservations, there are still some compelling reasons to have one. This unit did match the jump starting capability of the other unit tested and far exceeds the other in terms of flashlight performance and ergonomics. I also really appreciate the case which keeps everything together and tidy.
Should you be compelled enough to spend $119.99 directly for the
Limitless Innovations store
or from
Amazon.com
? I think this really comes down to you. Personally I will keep one of these in any car my wife might be driving. This is so much simpler to use than jumper cables which makes it worth the investment for me. In the past my wife has expressed concern about using jumper cables since they spark when you make the last connection and it makes her uncomfortable. The JumpSmart doesn't do that. This is a tool she can use with confidence. With the JumpSmart there are no fears of sparks or making a bad connection, the smart controls ensure it won't cause a bigger problem.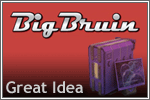 Pros:
» Excellent build quality
» Bright long lasting flashlight
» Good power bank (possibly under-rated)
» 1 year warranty
» Case keeps all accessories together
Cons:
» Recharge frequency of 3 months.
» Questionable if 400A is enough for a 5.0 liter 8 cylinder
» Would like to see these ship with test reports
» Case is a little bulky
Please drop by the Bigbruin.com Forum and feel free to post any
comments or questions
.