Conclusion:
ioSafe
had promised unparalleled protection of your data with the ioSafe Solo and without a doubt they delivered. It is a great product for anyone in the market for an external hard drive that can take a beating in the case of an emergency. Rest assured that any sensitive or irreplaceable data can be safely stored in the ioSafe Solo.


The ioSafe Solo has a tiered pricing structure not only dependant on capacity, but on the length of support you wish to receive. You can get the 500GB unit for as little as $149.99, which includes a 3 year warranty and 1 year of DRS (data recovery service). For 199.98 you can get 2 more years of DRS added in, and for $249.99 you can extend the warranty and DRS to a full five years!
The price is definitely higher than a typical 500GB USB hard drive, but it obviously offers something a typical drive can not. The device is well worth the base price of $149.99, and you could always pay extra for serious long term protection from disasters and typical warranty issues.
The concept of a disaster proof hard drive seems like a good idea, but because it actually survived a raging fire, the ioSafe Solo rugged USB external hard drive earns the Bigbruin.com "Great Idea" award. And because it still offers solid data transfer rates and other items you would expect, it also earns the Bigbruin.com "Highly Recommended" award.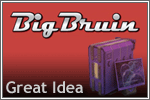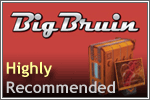 Pros:
» Large capacity: 500GB/1TB/1.5TB
» Performance equal to other external hard drives
» Durability, durability, durability!
Cons:
» Heavy @ 15lbs
» Premium price
Please drop by the Bigbruin.com Forum and feel free to post any
comments or questions
.