Disaster Strikes:
I would say it is time to give the audience what they came for, but before I go all destructive lets keep in mind how this external hard drive is designed to work. The ioSafe Solo is designed to allow the hard drive inside to withstand a single disaster, fire or water. This does not mean you can drop it in the ocean for a day then connect the ioSafe Solo to your PC like nothing happened. What it does mean is that the enclosure will take the damage while keeping the hard drive itself safe. When all is said and done you can send the ioSafe Solo back to ioSafe who will extract your data for you.
With that said I am left with two choices; I can either drop the ioSafe in water or make a fire. Hmm, no competition there... When in doubt make a fire! Words to live by.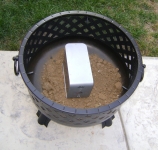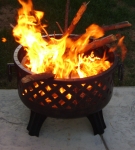 In the above left image we can see the stage being set for the
ioSafe
fire. My goal is to engulf the ioSafe Solo in flames in an effort to duplicate an office fire situation. For today's fire we will be using wood, paper, gasoline and just about anything else flammable I can get my hands on. The above right image is that same goal achieved as you can see the intense flames surrounding our test subject. Using an infrared thermometer we can see the temperature reaching more then 750 degrees Fahrenheit, well above what most PC components could make it through.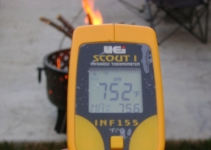 With the flames out and the ioSafe Solo cool enough to touch it was time to see if the actual drive was safe, along with any data. Here we can see the ioSafe Solo after it has been to hell and back, oozing melted plastic and wiring out of the back. The below right photo gives us a look at the inner protection provided by the ioSafe Solo with the top/bottom metal piece removed.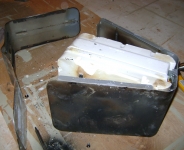 Separating the two protective plates we can see the drive wrapped in a waterproof anti-static bag. Cutting open the anti-static bag we find our drive untouched and undamaged. We can verify what HD Tune told us earlier that the ioSafe Solo uses a Hitachi drive . The Hitachi 500GB HD had no issues when I connected it to my system, a true testament to ioSafe's ability to protect your data.