The Basics:
The 500GB
ioSafe
Solo arrived in non-retail packaging so I will not bore you with plain box photos. The below left image provides our fist look at the ioSafe Solo. The rather sleek enclosure is deceptively heavy, weighing in at 15 pounds. The below right image gives us a side view of our metal monster, which sports a very clean silver look.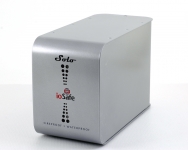 Below we get a look at the back before I removed the activation sticker. Remember to hit up the ioSafe website to activate you warranty.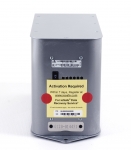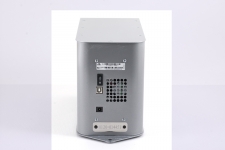 With the registration reminder removed we have more of a clear view showing off the forced air cooling, on/off switch and the USB 2.0 interface.


Standing on end we can now see the rubber feet that help keep the ioSafe Solo in place. More important than the rubber feet we see the anchor point for the ioSafe Solo. Should you be worried about anyone moving your hard drive, you can take precautions by securing it with the anchor point. The below right image is a glimpse of what comes with your ioSafe Solo. We have the USB 2.0 cable, power cable, and owners manual. The ioSafe Solo needs no special drivers or software.