Testing (continued):
AS SSD Benchmark 1.4.3704.27281:
The last benchmark to consider is AS SSD, which is geared towards testing the read and write performance of just solid state drives. Results graphed below are all provided in units of MB/s, and higher is always better. We have sequential read and write tests, as well as read and write tests that utilize 4K random blocks.
The sequential read results are shown below, and we have the Intel drive doing quite well - even exceeding its published specification of 250MB/s. As has been seen before, there is not much a SATA 3Gbps drive can do when the Crucial drive is capable of so much more thanks to SATA 6Gbps technology.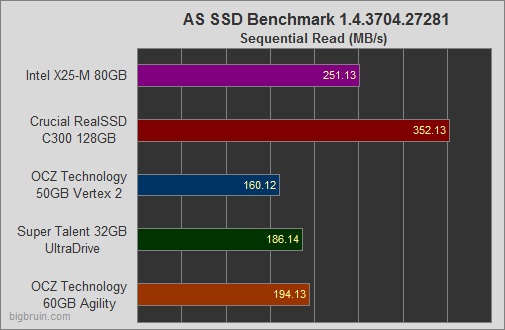 When it comes to sequential writes, we see a familiar scene, with the Intel drive finishing at the back of the pack with a score around 80MB/s.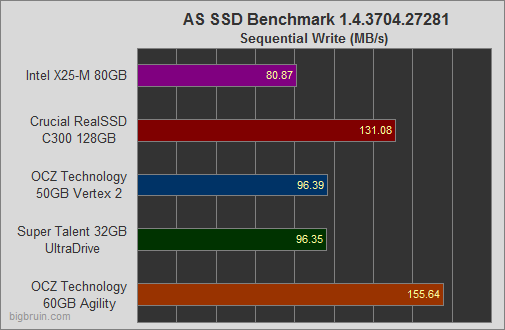 When looking at 4KB random reads we see all of the solid state drives running rather "slowly", with scores in the 20MB/s neighborhood. Unfortunately, the Intel drive doesn't quite make the 20's, and finishes last at just over 18MB/s.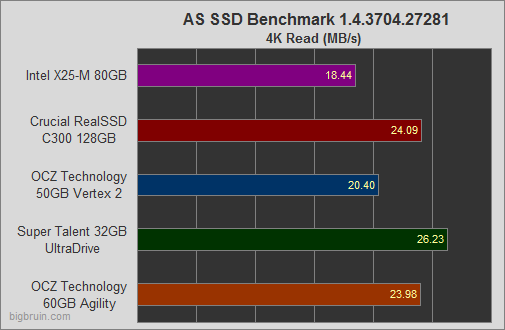 Finishing things up with AS SSD, we have 4KB random writes. I expected the Intel drive to be embarrassed in this test, and was quite surprised at how well it did. After repeating the test a few times I accepted the findings, and realize that the architecture of the Intel X25-M has at least one feature that is write friendly.