Packaging:
Our sample of the Imation 64GB M-Class solid state drive came in the box shown below. You get a good look at the drive and the USB enclosure, but you don't get too much information regarding product specifics.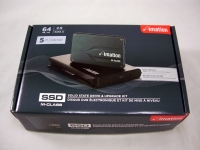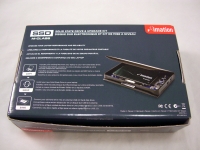 Inside the box the SSD was found in a form fitting foam tray with a user's manual placed on top (the manual only covers the use of the USB enclosure). Underneath this tray, but not shown, is where the upgrade kit accessories were found. As shown in the below right image, the SSD was sealed in your typical anti-static bag before being packed.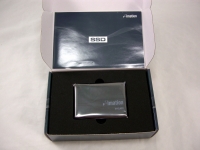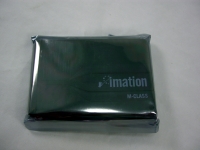 Accessories:
As mentioned, this Imation SSD was bundled with an upgrade kit in order to make the transition as easy as possible for computer user's of any ability. While you can buy this drive on its own, the accessories shown below can come in quite handy now and at any time in the future when a new drive has to be added to any system you might own. There is a bootable CD containing Acronis' drive management software, the USB enclosure, a USB cable used to power the enclosure, a USB data cable, and a set of screws in case you want to make the installation of your drive in the enclosure a bit more permanent.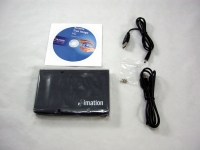 The enclosure itself is rather compact and has a great design for the intended use. External features are limited to a lighted button on one of the long edges, plus power and data connections on one of the short edges.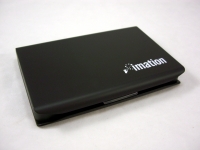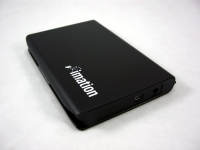 The lighted button mentioned in the previous paragraph will indicate when the drive is powered up and active, but perhaps more importantly it provides one click access to the enclosure's insides. Press the button and the enclosure hinges open, as shown below. You simply slide a 2.5" SATA drive in to the data and power headers, and you are ready to go. The foam pad shown on the inside of the enclosure's lid is more than adequate to keep a drive in place for temporary usage, but if you want to make this more permanent you can use the included screws to secure the drive.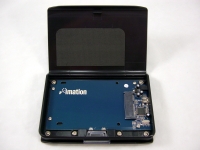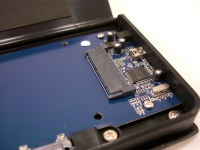 Many SSDs are available with some sort of upgrade kit, but this one was definitely well thought out. Over the course of this review I used it to clone about a half dozen drives, and I was able to do so quickly, without issue, and while keeping the drives safe.