In this review we will be taking a look at an external drive enclosure from
ICY DOCK
... Something we used to do regularly at Bigbruin.com, but it has now been over seven years since the last time we covered one of their products. What we have to review is their ICYRaid 2-bay USB 3.0 drive enclosure, which is shown in the promotional image below.


This compact and stylish enclosure can hold two 3.5" hard drives (or 2.5" hard drives with optional converters) and lets you connect them to your PC via USB 3.0 in a variety of drive configurations (RAID 0, RAID 1, JBOD, Big). Before we take a look at the sample provided for review, let's cover some of the published data taken from the
official product page
on the ICY DOCK website...
Feature and Specifications:
» Model Number : MB662U3-2S
» Color : White with silver aluminum body
» Host Interface : USB3.0 (Backwards compatible with USB 2.0)
» Drive Fit : 2 x 3.5"SATA I, II & III HDD
» Drive Type : Standalone with horizontal or vertical positioning
» Transfer Rate : Up to 5Gb/sec via USB 3.0, Up to 480Mb/sec via USB 2.0
» Power Supply : 12V/2A Power Adapter
» RAID Modes : RAID 1 (SAFE), RAID 0 (FAST), BIG & JBOD
» RAID Setting : Horizontal slide switch
» Support HDD Capacity : Up to 6TB per drive slot
» Structure : Aluminum Body with Partial plastic
» Drive Cooling :
» 40mm Quiet Sunon MAGLev Cooling Fan
» Adjustable Fan Speed Control
» Aluminum Body Heat Dispersion
» Drive Status Indication : LED Located on front panel
» HDD Idling Indication : LED off
» HDD Access Indication : Flashing White LED
» RAID 1 Rebuilding Indication : Solid White LED
» RAID Verifying or Confirmation Indication : Flashing white LED then turn off
» Empty Bay / HDD Failure Indication : Solid red LED
» OS Requirement : Windows XP/ 2003/ Vista/ 7/ 8, Mac OS 10.2.8 & higher
» Dimension (L x W x H) : 8.07 x 5.28 x 2.4 in
» Weight : 1.83 lbs.
Packaging and Accessories:
The ICYRaid enclosure is sold in the detailed retail packaging shown in the images below. You get a few pictures of the device, as well as plenty of text to tell you all about it. Pretty much all of the information included in the list of features and specifications seen above can be found on the box.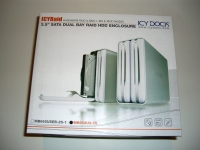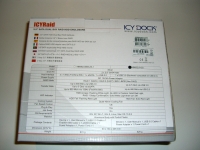 As we see in the below left image, inside the box a foam frame protects the drive enclosure which is also wrapped in a plastic bag. Not shown in this image is a small cardboard box which contains the accessories. In the below right image we see everything that ICY DOCK has included: A user manual, a USB 3.0 cable which is rather long and heavy gauge, and a two piece AC/DC adapter.