This review is going to cover three different hard drive cages that were provided by
ICY DOCK
. ICY DOCK has been making hard drive related components such as cages and docks for years, and we first started checking them out back in 2006. This time around we have some of their newer offerings that provide convenient, hot swap access to drives installed in the external bays of your PC's case. We will look at their ToughArmor EX MB492SKL-B which lets you install two 2.5" drives in a single 3.5" external bay, their ToughArmor EX MB491SKL-B which lets you install one 2.5" drive in a single 3.5" external bay, and their FlexCage MB973SP-2B which lets you install three 3.5" drives in a double 5.25" bay.
Before taking a closer look at each device, check out the images below. Here we see the three units side-by-side. All three offer individual access to each installed drive, while the 2.5" drive devices also allow you to lock the doors shut.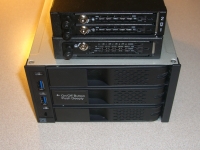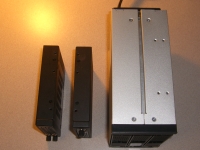 Worth noting is that all three devices are available in black only, so owner's of cases with different color schemes will be left with something that doesn't quite coordinate.
ToughArmor EX MB492SKL-B:
The ICY DOCK ToughArmor EX MB492SKL-B is shown in the promotional image below...


And the following list summarizes the key features and specifications, as found on the
official product page
...
» Model Number : MB492SKL-B
» Color : Black
» Device Interface : 2 x 22pin SATA (Support SAS single channel)
» Drive Fit : 2 x 2.5" SAS/SATA HDD/ SSD
» Compatible Drive Heights : 7mm to 9.5mm
» Host Interface : 2 x 7pin SATA
» Device Fit : 3.5" front device bay (floppy bay)
» Transfer Rate : Up to 6 Gb/sec. (depending on hard drive speed)
» Power Input : Single 15pin SATA power port
» Insert& Extract connection Via : Direct SAS/SATA hard drive connection
» Structure : Full metal
» Drive Cooling : Metal heat dispersion
» Power Indicator : Solid green LED
» HDD Access Indicator : Flashing amber LED
» Drive Security : 2 segment key lock + thumb screw lock
» Dimension (L x W x H) : 101.2 x 25.4 x 138 mm
» Weight : 407.5g
» Package contents : Device, user manual, screws, keys, drive ID plug