Conclusion:
The
Kingston
HyperX Cloud II gaming headset are well built and should provide for years of enjoyment in gaming and multimedia playback. The sound quality is very good for music and movies, and the virtual surround does a good job to simulate that you are in the game. I am never overly convinced by surround sound headsets, but these do work rather well. One thing I wished they had in this department was a way to get surround sound directly from a dedicated sound card. The USB adapter included by Kingston is convenient, but it would be nice to have an adapter with a bank of plugs in order to tap in to the 7.1 channel surround you might already have built in to your computer.
I found the headset to be very comfortable, and they should be adjustable to suit users with all sorts of head sizes and shapes. Kingston includes a variety of accessories to make them more comfortable and to make using them more convenient in a variety of settings. The USB adapter is an accessory that I both like and dislike... It is necessary to make the microphone and surround sound work on your computer, and it is a compact and practical way of doing so. But as I have mentioned it, without it you only have a 2 channel headset when used with your computer. For those who want to use the headset with a mobile device, you can at least have a 2 channel headset with microphone, but with your computer you need to forget about your existing sound card and use the adapter from Kingston to get surround sound and a microphone.


The Cloud II headset presently sells for
$99.99 at Amazon.com
, whether you choose the pink, gun metal, or red colored model. This price is very competitive when compared to other gaming headsets that offer comparable features. You can definitely get a headset with virtual 7.1 surround sound for much less, but the build quality and audio performance may not be on the same level.
In the end, the
Kingston
HyperX Cloud II gaming headset earn both the Bigbruin.com "Recommended" and "Gaming Approved" awards.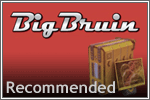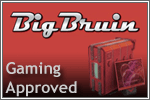 Pros:
» Attractive styling (even in hot pink and white)
» High end sound for gaming and multimedia enjoyment
» Solid construction
» Includes plenty of useful accessories
» Two sets of ear pads, one in leatherette and one in cloth
» 8 year old daughter finally enthused about something I reviewed
Cons:
» Can't get 7.1 channel surround or use microphone unless using USB adapter
» I wish the microphone jack cover was attached to the headphones, so I won't lose it
» Would like an adapter to use a sound card's dedicated outputs for surround sound and microphone
Please drop by the Bigbruin.com Forum and feel free to post any
comments or questions
.