Conclusion:
The Kingston HyperX 3K 240GB solid state drive is definitely an impressive unit. It offers excellent transfer rates, an appealing price, and a bundle of accessories that will make installing the drive in to any system extremely convenient. During testing it was able to approach or exceed its published performance specifications, and it was able to compete with some pretty fast drives head-to-head.


As mentioned at the beginning of the review, the drive's price is a very compelling reason to consider it. Right now the price is about
$235 (US) at Amazon.com
just the drive, not the whole upgrade kit) and it qualifies for free shipping thanks to Prime. Less than $1/GB is impressive, but it has been as low as about $180 recently, which is dirt cheap in the world of SSDs. The 120GB version was recently around $90 and the 90GB version was about $70 after rebates, while Amazon.com presently has them for $115 and $100 respectively without rebates.
Not mentioned to this point is one way that Kingston has managed to get the price down on this series of SSDs. By opting to use Intel branded NAND flash memory capable of 3000 program-erase cycles instead of the more robust 5000 program-erase cycles found in higher end drives. It is a significant reduction, but in the grand scheme of things it should not impact the life of the drive for a typical user.
Given the impressive performance, competitive price, and extremely useful bundle of accessories, the Kingston HyperX 3K 240GB solid state drive earns the Bigbruin.com "Highly Recommended" and "Good Value" awards.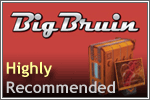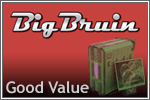 Pros:
» Great performance
» Great Price
» Excellent bundle of accessories and software
Cons:
» 3000 P/E cycles instead of 5000 P/E cycles
Please drop by the Bigbruin.com Forum and feel free to post any
comments or questions
.