Testing:
Testing the Kingston HyperX 3K 240GB solid state drive will consist of running it through three suites of tests... AS SSD Benchmark 1.4.3704.27281, ATTO Disk Benchmark v2.41, and PCMark Vantage x64. For comparison purposes, the HyperX 3K drive will be matched up against twp high speed PCI Express SSDs from OCZ Technology, a 2.5" SATA 6Gbps drive from Crucial, and a 2.5" SATA 3Gbps drive from OCZ Technology.
AS SSD Benchmark 1.4.3704.27281:
AS SSD
Benchmark 1.4.3704.27281 is the first suite of tests to consider in this review. Results presented below are all provided in units of MB/s, and higher is always better. We have charts for the sequential read and write tests, as well as read and write tests that utilize 4K random blocks.
In the sequential read results we see the Kingson HyperX 3K hitting an impressive 518MB/s, although it was a bit shy of the rated speed of 555MB/s. It is only one upped by the 100GB OCZ RevoDrive X2 which is in reality a 4x RAID0 array of 25GB drives, which will obviously be very fast.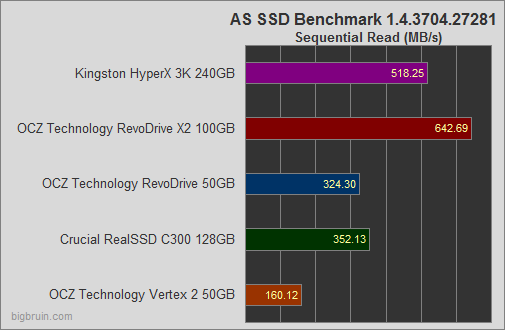 Sequential writes shows the HyperX 3K drive as the top performer by a wide margin.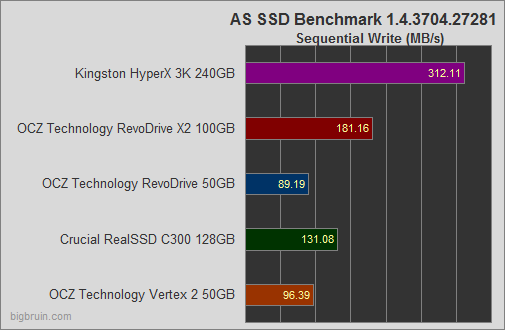 4K reads knock the speeds down substantially, but again the HyperX 3K drive is right in there with the competition.
4K writes also show the HyperX 3K drive as the top performer. While rated for 510MB/s on sequential writes, the two results shown here (sequential and 4K) are still quite impressive.