The Basics:
In the end, it is physically just another 2.5" SSD, but Kingston took the time to make it look cool since they were marketing it toward the enthusiast crowd.


The chromed logos on the dark brushed metal top surface and the X shaped pattern of the whole top are sporty and just look pretty cool.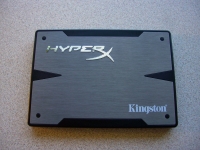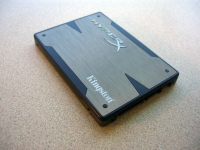 The underside of the drive has a textured metal surface that's primary purpose is to carry the data label shown in the below left image. On one end of the drive we find the typical SATA data and power blades.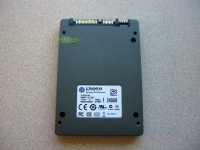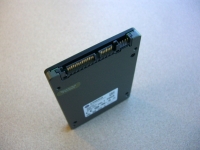 Installation and Operation:
The system detailed below was used to test the Kingston HyperX 3K 240GB SSD:
» Intel Core i5-2500K Sandy Bridge 3.3GHz processor
» Gigabyte P67A-UD3 LGA 1155 Intel P67 motherboard
» ASUS EAH6870 1GB Radeon HD6870 graphics card
» Kingston 128GB SSDNow V-Series solid state drive (for OS)
» 16GB (4x 4GB) G.Skill DDR3 1600MHz memory
» Windows 7 Professional 64-Bit operating system
As expected, installation was uneventful, and while connected to a native SATA 6Gbps port in the system above it was detected by Windows 7 immediately. The screenshot below shows what CrystalDiskInfo version 5.0.0 had to say about the drive.