Packaging and Accessories:
The packaging is very informative, and it tells you just about everything you would need to know about the drive inside. The front conveys things like the transfer rate specifications, capacity, and informs you that the drive is covered by a 3-year warranty. Around back the key bit of information is a pictorial indication of exactly what you will find in the box.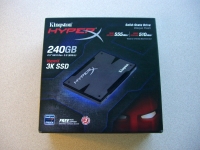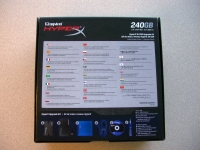 Opening the cover of the box reveals the stylish SSD sitting snugly in form fitting foam. Removing this layer reveals another layer of foam cut to contain the USB drive enclosure and a very cool multi-bit screwdriver. Also shown is an installation disk which includes a copy of Acronis True Image to make setting up your new drive a breeze.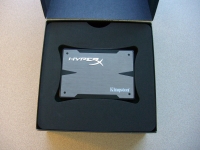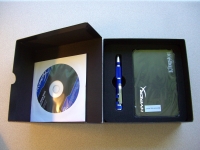 Kingston puts together a great bundle with the drive 'kits', and the bundle included in the box for the HyperX 3K drives is definitely useful.


The next two images shows some of the accessories removed from the box. There is a USB data/power cable, a SATA data cable, the tool-less USB 2.0 drive enclosure, two bags of mounting screws, and a 2.5" to 3.5" drive adapter which will allow you even greater flexibility when installing the drive internally.