Conclusion:
The 960GB HyperX Savage SSD is just what I would expect from such a device in
Kingston
's HyperX line up of products. It looks great, it comes with a handful of useful accessories, and most importantly it is rated for high end performance. Testing showed that the drive was actually capable of exceeding the specified 560MB/s read speeds and 530MB/s write speeds, which is definitely impressive.


The bundle of accessories included with the drive is definitely nice to have, and could make using this drive (and others you own) much easier. Among the included goodies, you get the USB enclosure, drive brackets, screwdriver, and cloning software. While these are all very nice, and nice to have, they definitely don't come for free. The price of the drive, bundled as tested, is $325 at places like
Newegg Business
, Amazon, or B&H Photo. The market for high capacity SSDs is heating up, and this one does not compete well in terms of price. Many 960GB SSDs (with similar specifications) sell for $50 to $100 less, and recent sales have seen such drives selling for almost $150 less. In the testing phase of the review, we saw a 240GB PNY CS1311 give the HyperX Savage a run for the money (so to speak) when it came to read/write speeds, and searching the Internet finds that the 960GB version of that same drive sells for around $220... A savings of some serious money.
In the end, the performance and bundle of accessories help the 960GB Kingston HyperX Savage SSD earn the Bigbruin.com "Highly Recommended" award.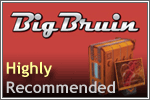 Pros:
» Very impressive transfer rates
» 3-year warranty with free technical support
» Includes a variety of very useful accessories to make the installation a snap
Cons:
» On the pricey side
Please drop by the Bigbruin.com Forum and feel free to post any
comments or questions
.