Testing:
The 960GB
Kingston
HyperX Savage SSD was installed in a Windows 10 system that has been used to test a handful of other SSDs, and as expected it was immediately detected by the operating system and made available for use.
CrystalDiskMark5.1.2 x64:
CrystalDiskMark 5.1.2 x64 is the first benchmark to consider, and it provides results to detail the drive's read and write performance in units of MB/s (higher values are better). The program was run set to "0 Fill", which simulates compressible data being transferred.
Sequential reads are shown in the graph below, and what we see is that the HyperX Savage just squeaks past its published speed of 560MB/s. Definitely very fast, and only barely beaten by the PNY CS1311.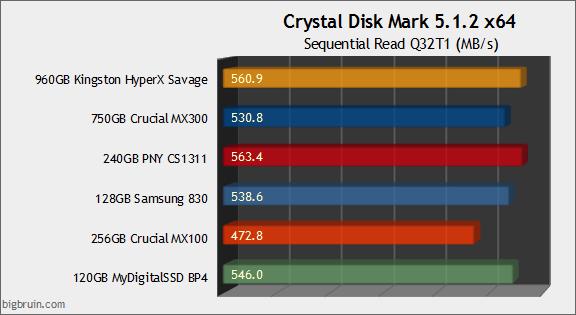 Sequential writes are shown next, and once again this new Kingston drive just exceeds its published write speed specification of 530MB/s. This time around it finishes on top of the six drives being compared.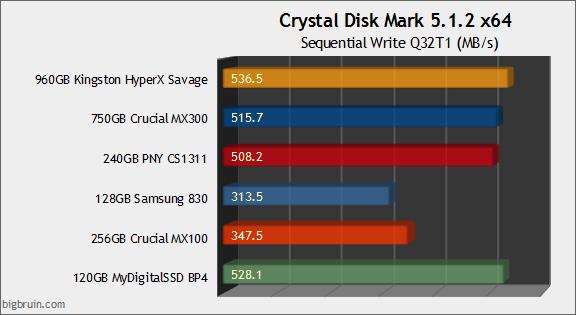 When it comes to reading 4K files, the Hyperx Savage dominates the field, and finishes with a speed of 339.9 MB/s.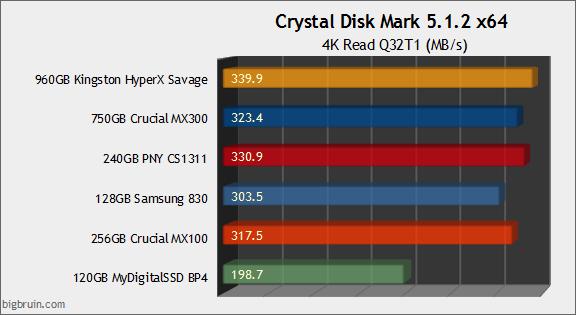 And for 4K writes, we see a similar result... The HyperX Savage is the top performer, and its speed is exactly 318 MB/s.