Testing (continued):
The balance of the tests are going to pit the HyperX Predator against a handful of other drives, most of which are traditional SATA drives, which will max out at a top transfer rate of 600MB/s. Only the two OCZ RevoDrives included are also PCIe based drives, but both are now several years old (ancient in computer terms).
ATTO Disk Benchmark v2.41:
ATTO's Disk Benchmark
version 2.41 was used to compare the speeds of all of these drives. The test was run in a fairly standard configuration; with a transfer size from 0.5 to 8192KB, a total length of 256MB, and the queue depth at 10. Read and write results are provided in terms of MB/s, and higher is better. We will take a look at results from the low end and the high end, since the data provide by the program covers too many points to present succinctly.
The first graph shows the results for 64KB file reads, where we see right away that the Predator dominates anything else we had on hand, and that it is in the ball park of its specified speed (which is not always the case for small file sizes).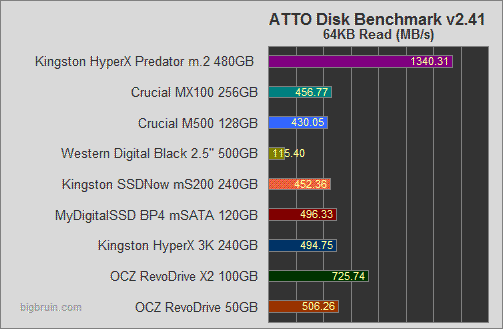 For 64KB writes we see a similar result, with the HyperX Predator hitting close to 950MB/s and being leaps and bounds ahead of the other drives.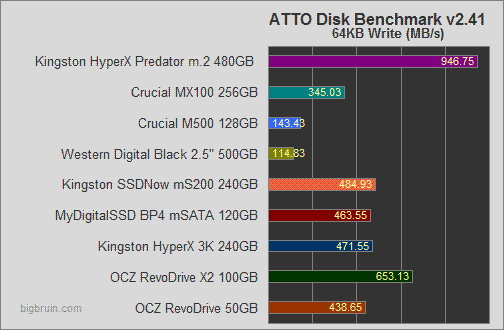 The next two graphs show file transfers at the high end of ATTO's scale... 8MB. First we see the read results, where the HyperX Predator hits 1414MB/s, just above the published specification.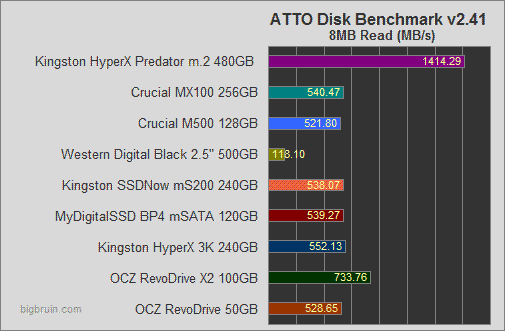 The final graph from ATTO shows the 8MB writes, where the Predator once again exceeds the published specification in testing.