Conclusion:
The
HyperX
CloudX pro gaming headset appeals to me for a variety of reasons, the least of which is their excellent stereo sound reproduction. I was fully expecting them to sound great, but what I appreciate almost as mush is just how comfortable they are. I have had several multi-hour sessions with these on without a hint of fatigue or soreness. I am not sure I can say that about any other headset I have used so far. I also like that the styling is low key, with no gaudy graphics or colors that will distract from these being just a very well built, great sounding headset.


My only real beef with this headset is that the inline volume control introduced static when I used it. While rolling the dial, the audio crackled and occasionally left one ear with lower volume than the other. You had to mess around with it a bit to get both ears back to the same volume, which meant listening to more static for a while. Many times I wound up settling for a lower volume than I was originally after, simply because I could get them back to balanced at that volume. I definitely believe this was an isolated manufacturing defect that unfortunately wound up in my hands... I have seen plenty of other review sites cover these, and plenty of consumer reviews, and haven't seen anyone else mention this. Overall, I do wish the volume controller wasn't there, but as long as I leave it maxed out and don't touch it, everything is fine.
The CloudX headset currently sells for around
$100 (US)
at places like
Newegg
, which makes them very attractively priced for this type of headset. The Revolvers we just covered sell for about $20 more, while the original Clouds are still for sale for just about $5 less. While I think the Clouds best suit my needs, those that actually want an officially licensed headset for use with the XBOX One should definitely pick up the CloudX headset. You'll not only want to use it with your XBOX, but you'll probably be packing them up in their cool little case to take with you for use elsewhere.
The overall build quality, audio performance, styling, and of course the comfort level of the HyperX CloudX pro gaming headset help them to earn the Bigbruin.com "Recommended" award.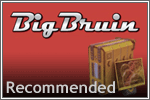 Pros:
» Fit well on a wide range of head sizes
» Very comfortable, even for extended use
» Excellent stereo sound
» Overall they are very well made
» Styling is low key and very well done
» Carrying case is an excellent extra
Cons:
» Inline volume controller introduces crackling/static to audio while in use
» I wish the microphone jack cover was attached to the headphones, so I won't lose it
» Be careful putting them back in the case, the cable may be very close to getting caught in the zipper
Please drop by the Bigbruin.com Forum and feel free to post any
comments or questions
.