Conclusion:
Overall the
HyperX
Cloud Revolver gaming headset have a decidedly upscale feel. The weight makes you feel like you purchased a high end set, while the sound performance confirms it isn't all just for show. But even the best sounding headset is useless if they are uncomfortable, thankfully that is not the case with the Cloud Revolvers. These are the only headset I have been able to wear for hours on end without getting fatigued from either the sound or the fit. With the included audio control box this headset is extremely versatile and can be used with pretty much any device. So, if you can't justify the cost just for gaming you can get added value with its multitude of uses.


With all the good I did find two potential negatives. The first one is subjective; I would have preferred a more subdued design to the ear cups. While this fits with most gaming accessories, the versatility of these means they probably won't be dedicated to gaming. For walking down the street this would be a bit much for me, I think the red X would have been sufficient. The other issue is with the headband. While it is super comfortable and keeps the headset firmly in place, it does on occasion make a creaking noise. Normal moving didn't seem to illicit this noise, but if your chair's headrest bumped the ear cups and they shift you are likely to get the creak. Slight bouncing of your head to the music was fine, but all out head banging would be an issue. But at least for me this was a very rare occurrence.
With a current sale price of around
$114
at places like
Newegg
and the versatility of the HyperX Cloud Revolvers, I think you'd be hard pressed to find a better set for the money. If you already have a working set of the older HyperX Cloud headset, these probably don't offer enough to make you upgrade. But if you have a set of Beats and game on occasion, these are definitely worth a look to upgrade. With all of that said, the HyperX Cloud Revolvers earn the Bigbruin.com "Gaming Approved" and "Highly Recommended" awards.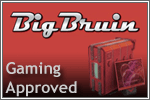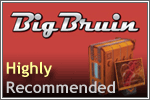 Pros:
» Super comfortable
» Incredible sound quality
» 2 year warranty
Cons:
» Some may find the aesthetics over the top
» Occasional creak from headband
Please drop by the Bigbruin.com Forum and feel free to post any
comments or questions
.