Initial Setup:
There really isn't much setup involved with this headset. If you are using it with your Xbox One, PS4, Wii U, or mobile device you simply plug them into the jack provided. Only with the PS4 you do need to go into settings > Device> Audio Devices> Output to Headphones and select All Audio. For PC you use the audio control box and make the appropriate connections to your sound card or motherboard for microphone and stereo output. Then connect the headset to the box and you are done. I do appreciate that while this control box provides both connections and 2 meters of wire, it isn't two separate wires of this length. They provided a Y near the end of the cable so you have adequate length (approx. 6") to separate the connectors, but don't add to the mess behind your machine.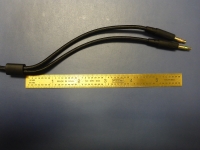 Performance:
Comfort:
As mentioned earlier, the HyperX Cloud Revolver headset is quite substantial. Part of this is due to the metal headband, but I think quite a bit of this weight comes from the substantial 50mm drivers. The metal headband makes the headset quite resilient to being yanked off, like a five year old might do, without being damaged or distorting the frame. But what is impressive is just how comfortable the Cloud Revolvers are. Even with this weight they feel quite good, the memory foam conforms to your ears without creating too much pressure and the suspension band helps keep things in place. Overall they are very easy to wear for hours at a time and the weight is barely noticeable after a bit. The microphone location and flexibility made it quite easy to adjust to get the position just right. My only issue with long periods of use was my head got a little warm, but to be fair I tend to run hot so anything more than a Band-Aid will warm me up.
Gaming:
Gaming with the Cloud Revolver was great; I noticed none of the white noise you sometimes get with cheaper sets and with such a wide frequency response the sound reproduction was incredible. Maybe this is what they mean by a studio-grade soundstage. I do think I was able to locate sounds better with these than some competing headsets but this is difficult to prove. But clearly the sound is very realistic with full rich bass that was not muddied and highs were equally clear without seeming too bright. So explosions and the crack of bullets firing seemed real, at least what someone who has never seen combat would think it sounds like. Others were able to hear me clearly through the mic and there were no comments of background noise or echoes of any kind.
PC Use:
The audio control box allows you to easily connect the Cloud Revolvers to your PC as well via the dedicated 3.5mm microphone and stereo connectors. Plugging the headset into the box allows you to have a single cable from the headset so you don't get that mess of wires. Utilizing the clip on the box I was able to connect this to my jeans pocket, keeping the connections close at hand. The mic is controlled by a textured slide switch to turn it off and on. The headset side of the box is smooth, so you can quickly tell by feel whether you are muted or not, which really helps if you are using this in the dark. Along the side of the control box is the volume control dial and while it reminds me of an old pair of cheap headphones I had it actually works quite well. Unlike those old headphones there was no noise generated when adjusting the volume and there was no buzzing at any volume level. Sound from the headset is no different than what I mentioned for the dedicated gaming machines.
Mobile:
This is how I spent most of my time with these. As I mentioned in the gaming section I really do think I could hear things I wasn't before, but without being able to do side by side comparisons of the same situation in the game I wasn't sure. But what I could be sure of was music reproduction; playing the same songs with different headsets allowed me to really compare not just gaming headsets but other headphones to these HyperX Cloud Revolvers. Overall I was left impressed with how clear and detailed these were. At the same device volume levels these seemed like they were the loudest, but also didn't break up as much as other headsets/phones at higher volumes. Even when they did I suspected this was due to the device not the headset. While I am no audiophile and don't have the cash to compare these to some high end Sennheiser's or the like; I think these are just about all most people would ever need. For a direct comparison; I think these sounded much better than the Beats I had.