Conclusion:
The
HyperX
Alloy FPS mechanical gaming keyboard is definitely an impressive keyboard, especially for an initial offering. You had to assume that if Kingston's HyperX division was going to offer a keyboard, they would do it up right, and I believe they did. It is well made, has a unique and useful design, and it performs very well when used for gaming and daily PC tasks. It also offers plenty of the features you would expect in a high end gaming keyboard, including N-key rollover, LED backlighting, and Cherry MX key switches.


On the downside, there isn't much to say. While personally I am glad that you don't have to install software in order to use a keyboard, it does mean some features are limited or missing from the Alloy. For example, you can not record custom keystroke macros, unless you go out on your own, as it is typically the keyboard's software that will manage that, and perhaps allow you to have different macros for different game profiles. Other than that, I find the name Alloy a bit ironic... I assumed it would have some sort of Aluminum finish (or some other alloy metal), but it is mostly plastic with a steel frame for stiffness.
Newegg.com
carries the HyperX Alloy FPS mechanical gaming keyboard for $99.99, which is definitely a competitive price for a high end gaming keyboard like this. The only issue with the price is that there are plenty of gaming keyboards in this price range, some of which may offer features and accessories that you may be seeking, that the Alloy does not offer. You definitely get a well made, solid performing, attractive keyboard for just under a hundred bucks, though.
In the end, the HyperX Alloy FPS mechanical gaming keyboard earns the Bigbruin.com "Recommended" and "Gaming Approved" awards.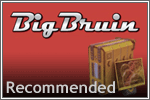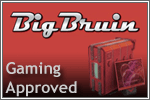 Pros:
» Feels well designed and well made
» Available with Cherry MX blue switches
» Unique styling is something new for the gaming keyboard look
» Offers plenty of the standard gaming keyboard features, including various lighting effects
» Ultra-portable tahnks to compact size, detacable cable, and carrying case
» No software required
Cons:
» No software means some things are not possible - like custom macros
» Alloy? Mostly plastic with a steel frame
Please drop by the Bigbruin.com Forum and feel free to post any
comments or questions
.