The Basics:
An overview of the HyperX Alloy FPS mechanical gaming keyboard is shown in image below, where we can see that overall it has a fairly traditional layout. One of the immediately noticeable points of interest may be that it has a compact footprint, with the keys being placed closely together, and there is not much extra material around the keys, such as embellished edges or a wrist rest. Additionally you may note that there are no extra keys (like dedicated media control keys) and you will notice that there is no cable attached, since it is completely removable. A removable cord is nice for helping make the keyboard more portable, but I also like this approach as it makes it that much more customizable. You can replace the cord if it becomes damaged, or if you just need something with a different length.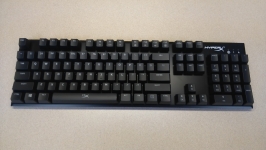 The next two images take a closer look at the left and then the right of the keyboard. Here we can see fairly well how the keys sit above the board, and are not recessed into the keyboard's housing, like on most other units. This is an interesting aesthetic touch, which should not affect the performance, but will make the LED backlighting more dramatic.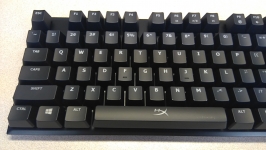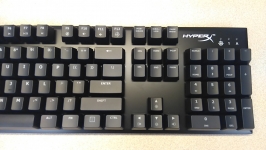 The below left image shows a lower angle of the left side of the keyboard, which really emphasizes how the keys are placed on the keyboard. They look really tall minus the usual plastic surround, but they still have the same travel as a typical keyboard. The below right image shows the opposite side of the keyboard where the two USB ports are located. The cable from your computer plus in to the unmarked port shown on the right, while the one on the left is clearly marked for use a charger port. I like this touch, since I have a six inch USB cable I can now use to easily charge my phone right on my desk, but I think it would be an even nicer touch if this USB port was capable of connecting other peripherals like mice or flash drives to your computer.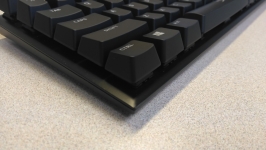 The last two images show the bottom of the keyboard, where the main feature of interest is the flip up rubber tipped feet that give the Alloy just a bit of an incline for more ergonomic typing. Even when these feet are folded flat, there is plenty of rubber in contact with your desktop to keep it from sliding around during some 'impassioned' use.