Packaging and Accessories:
The front and back of the box for the HyperX Alloy are shown in the two images below. You get plenty of information about the keyboard and its capabilities, as well as plenty of pictures. The image on the front does a good job to show the unique placement of the keys, and the picture makes it look as if they are popping right off the box.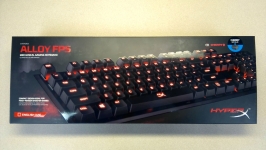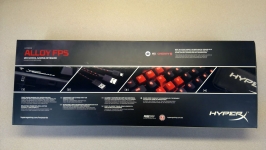 The graphics shown above are actually all on a sleeve placed over the box protecting the keyboard and its accessories. When you open the box, the first thing you find is a soft pouch that is meant to store your keyboard when not in use, which would be great for those travelling to LAN parties with their new Alloy keyboard. Under that you will find to paper inserts, and then the keyboard itself.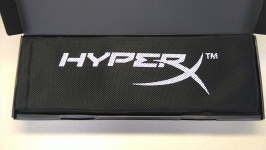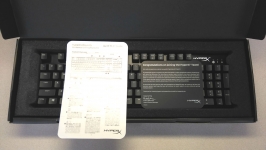 The keyboard is fit in to a foam insert in the box, and right away we can see it has a unique design in terms of its compact footprint, and the way the keys seem to stand on top of the board, instead of being recessed in to the board. The below right image shows that the balance of the accessories are located under the keyboard.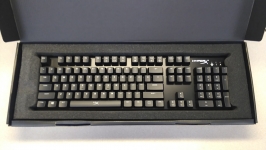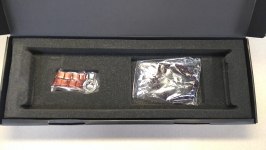 A vacuum sealed pouch includes eight keys and a key removal tool, which will allow you to swap out the commonly used gaming keys to switch them from black to red. The cable for this keyboard is completely detachable, and is nicely finished, braided, and about 1.8 meters long. You may note that there are three USB plugs... This is so that you can connect two to your PC and one to the keyboard, thus giving the board enough power to charge your phone, too. We will see more on this feature later.