Performance:
Despite its diminutive size, I found the range for ZigBee and Z-wave networks to be more than adequate. I was able to pair devices in their final locations, often 50 feet away through several walls. Honestly though the system range and stability is dictated more by how solid a mesh network you build. Hubitat covers topics like this as well as many others
here
. I was also very pleased with device compatibility. Even though the Centralite outlet and door sensor they sent are not officially supported (
list of officially supported devices
) they pair up as generic devices and run locally. This is a huge advantage over other platforms. While I don't expect Hubitat to be gone anytime soon, it is nice to know that should something happen all of my ZigBee and Z-wave devices will still continue to function. As mentioned above I was pleasantly surprised to get my LeakSmart sensors and Gen 1 Iris sensors connected and functional. With Hubitat I actually have better functionality than with Iris since everything runs local. During testing I also pulled out an old Quirky smart wired outlet that never worked on Iris and would work on ST for a couple days before needing a reset. On Hubitat this connected and stays connected. Finally, I was able to connect a Sengled smart LED strip that was sent for review. Again while it wasn't officially supported it connects and functions well. The only complaint I would have is with the color selector of the generic RGB driver. The generic device handler has a very small bar to select the color. If you have big fingers like me it isn't so easy to fine tune what you want quickly. They do however allow you to directly input the color temperature if you know it. But this is a minor issue since the functionality is spot on.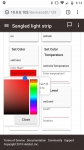 I found the Dashboards to be a nice feature. It allows you to interact with your system on a high level and see what is going on. I did find that the Dashboards, as well as other Hubitat pages loaded slower than I would have expected being local, but I never experienced a crash. The only time this became a real issue is when we inadvertently set off the house alarm at 4am and it took too long to silence the siren. But I like the configurable nature of these Dashboards and have plans to set up a dedicated tablet for system control. There are other options for setting up these screens but most are pay options, while they do add functionality and customization that looks pretty slick I think most end users are fine with the stock experience. One thing to keep in mind is that these Dashboards will be all you have access to in the mobile app. So keep that in mind when creating them, make sure you have an entry for all devices so you can have remote access should you need it.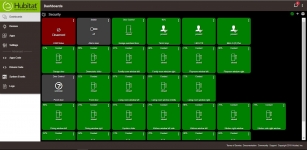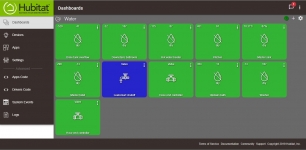 Rule machine is incredible. You can basically make this hub do anything you want. But with that said, it can be a bit overwhelming for some people. I will admit when I first looked at it I was about to give up. It seemed too complicated but once you see the logic behind it you realize just how flexible the app is. I was able to set up rules that were never possible with Iris. It does take a few tries to get things right but in the end things work great. I did have one instance where rules were conflicting with each other, but when you go to the rule they mark each part as true or false. This allows you to quickly and easily determine which parts aren't working as you anticipated.
SMH or smart home monitor is Hubitat's answer to allowing you to set up a home alarm system. This allows you to set how your system will react to intrusions, fire/CO and water alerts. As with many hubs, Hubitat allows you to select which devices are part of each system, modes etc. As with many things in Hubitat, my biggest gripe is the lack of "canned" solutions. I love the ability to tailor my experience to exactly my needs but I fear too many people are put off by the initial learning curve and end up purchasing something like a Ring alarm system. I think this is a real shame. I would really like to see them develop basic versions of these apps that allow people to quickly and easily set up simple solutions. Get them hooked, then over time they may develop their systems further. Currently I have my system set to auto arm/disarm based on times and presence. The only issues I have had with the alarm come from trying to utilize the mobile app for presence. Occasionally when the mobile app updates it logs you out which automatically sets you as away. But functionality with an Iris Gen 1 key fob has been no issue.