Packaging and Accessories:
The Hubitat Elevation C-5 hub comes in a full color package that has a picture of the unit on the front with the backdrop of someone's living room. Flipping the box over they have a graphic to represent the different types of devices you can connect and where to go to see a complete list of compatible devices. Sliding the sleeve off and lifting the lid you will see the exceedingly small hub with the Hubitat logo prominently displayed on top. Here you will also find the user manual.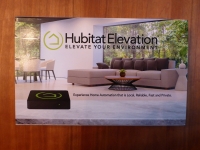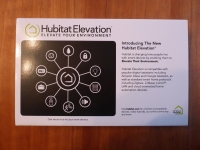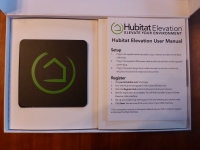 Underneath this they have a flat Ethernet cable, USB to micro USB cable, and an AC/DC transformer tucked neatly inside.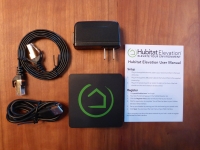 The Basics:
The top of the device has a large green Hubitat logo and on the front there is a small LED for status indication.


As mentioned above, this device is small. As you can see in the picture below the height is just tall enough to accommodate the Ethernet port. In the other corner you'll find a micro USB port for powering the unit. Flipping the unit over you'll find some passive cooling and (4) rubber feet. Overall a really simple looking device, though I do wish they made two changes. First I would love to see a PoE connection. I know you could just purchase a splitter, but sometimes these devices just add problems. Also I would like to see some sort of wall mount option. It could even be useful for shelf mounting since the device is so small and light it really ends up being positioned based on the bend radius of you Ethernet cable.