The Basics (continued):
Let's take a spin around the stand/cooler and see what we're working with. On the right side of the unit we have the 4-port USB hub.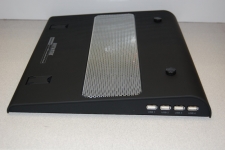 On the left side we see the USB mini plug which will power our hub, an optional AC power connection, an on/off switch for the 80mm cooling fan, and a dial which controls the fan speed. Turning the dial to low actually turns the fan off. With an on/off switch present, perhaps Hiyatek could have just used a Hi-Lo switch and have been done with it.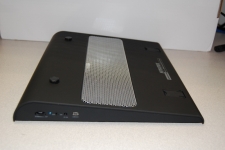 In the below left image we see the bottom of the stand/cooler in all its glory. At the top is a sliding door which serves as a storage compartment for the included USB cable. I suppose you could store USB sticks in there as well, but the compartment is only about 6 inches by 2 inches and about an inch deep. In the middle is the "removable" 80mm cooling fan. The fan uses a standard 3 pin connector so theoretically it could be replaced, but it is a low profile unit so you'd need to take that into consideration when making your purchase. The fan is held in place by 4 long studs... no screws. Taking the fan out of the holder was fairly easy, as was replacing it.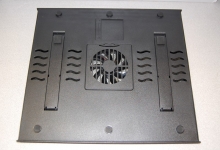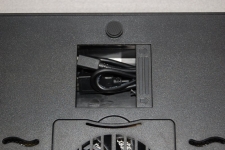 On the sides of the base are two height adjusters. There are 3 positions for the stand. The highest setting is about 6 inches, the middle setting is 4 inches, and with the legs completely folded it is about 1-1/2 inches.