Testing (continued):
Thermal Testing:
Thermal testing was conducted by monitoring the GPU temperatures of each card using
HWMonitor
1.14 64-Bit. The idle condition was established by recording the temperature after letting the system sit for 30 minutes with only HWMonitor launched. The load condition was established by running 3DMark Vantage two times back-to-back, followed by two back-to-back sessions of the Resident Evil 5 benchmark. HWMonitor is able to log current, minimum, and maximum temperature, so once all testing was completed, the maximum temperature was recorded. All testing was completed on an open testbed with relatively still air in a room with an ambient temperature of 20C.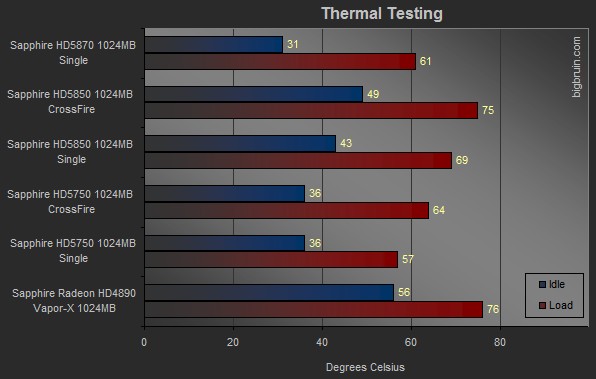 Up to this point I had been impressed by the performance of this new card from Sapphire... Now I was really impressed. So much so that I duplicated the thermal testing just to make sure it was accurate. The Vapor-X cooler keeps the GPU very cool and does so with minimal noise. While some cooling fans on other cards have to surge to keep their temperatures safe, this card never went above a whisper in order to provide some of the best temperatures I have seen. And I'm not just talking about high performance cards... Even some lower end GPUs can't stay quite this cool.
Power Consumption Testing:
Power consumption testing involved the use of an AC power monitor (a Seasonic Power Angel) to keep track of the AC Wattage drawn by the test system. Since all hardware other than the graphics card remained the same from test to test, any change in the power reading can be attributed to the demand of the graphics card. Idle conditions were established by letting the system sit at the Windows desktop until a stable value was achieved, and for load testing 3DMark Vantage was executed two times back-to-back.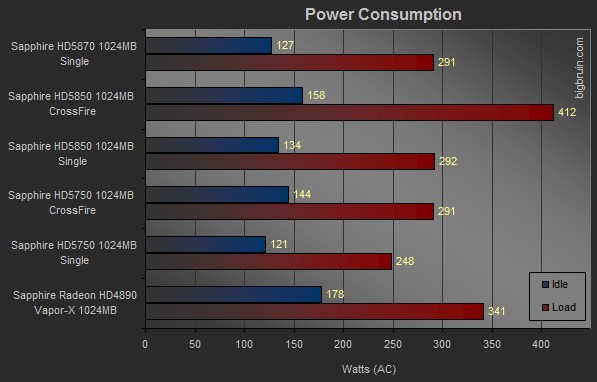 As with the cooling test, the results here forced me to run the test again to make sure they were accurate. While I still find it hard to believe, the Vapor-X Radeon HD5870 is not only a much higher performance card than the HD5850, it is apparently also more energy efficient. The maximum power reading noted was 1W less with the HD5870 as compared to the HD5850, and at idle the power reading was 7W less. Highly impressive!