Conclusion:
Sapphire
's Vapor-X Radeon HD5870 takes a top of the line single GPU graphics card and enhances it in a few areas to make it even more appealing. The 3D performance is definitely impressive, but the fact that it stays cool, quiet, and doesn't send the electric meter spinning seems like an even greater accomplishment.
The appearance of the card may mean little to some, but Sapphire can generally be counted on to offer a product that stands out from the crowd. The Vapor-X Radeon HD5870 is definitely unique, and if you want to show off your card's appearance as much as its performance, it is definitely a top pick. In addition, the bundle of accessories includes everything you would need and then some, offering two titles for your 3D gaming pleasure.


On the down side of things there isn't much to say. While it does 'include' two games, some might complain that you have to wait to play one of them since it hasn't been released on Steam to be downloaded yet. Others might snicker at the meager overclock applied at the factory, but you can always try to boost it higher yourself. Other than that I suppose you would be left to grumble for the obvious... faster, cheaper, and somehow able to make you a better gamer.
Pricing for a typical Radeon HD5870 starts at just over $400 (US). With the factory overclock, a pair of games included in the bundle, and the highly effective cooler included with Sapphire's Vapor-X version I expected the price to be a good deal higher than 'typical'. Searching the Internet doesn't find much in the way of availability, and in-stock inventory was actually non-existent. The one store that Google did find for me was out of stock, but their price of $409 was surprisingly low. Well, not that $409 is cheap in the grand scheme of things, but considering what you get above and beyond a reference offering, the amount seems rather appealing.
Considering the performance, aesthetics, and price relative to other HD5870 cards, the Sapphire Vapor-X Radeon HD5870 1GB graphics card earns the Bigbruin.com "Highly Recommended" award. And considering just how cool and quiet it stays while providing some serious 3D horsepower it earns the "Whisper Quiet" award.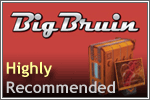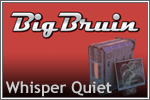 Pros:
» High performance 3D graphics
» Unique appearance looks tough
» Runs very cool and very quiet
» Surprisingly energy efficient
» Bundle of accessories includes two games
Cons:
» Availability
Please drop by the Bigbruin.com Forum and feel free to post any
comments or questions
.