The Basics (continued):
The back of the monitor is very plain. The top of the monitor has the company name, and in the center of the back is the standard sticker which provides the various certifications, model number, and serial number. Surrounding this sticker are four screw holes, which will allow the user to mount this monitor onto a standard VESA monitor arm. If you take your monitor to college, or to various LAN parties, you might want to consider locking it to a desk. A standard "Kensington" cable lock port is available in the lower left corner.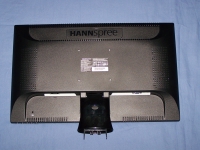 If you look closely at the image above, the monitor stand bracket has a little hinge on it. This will allow the user to adjust the viewing angle of the monitor from -5 degrees to +15 degrees. There is no built-in height adjustment or pivot options.
As is very common, the power connector is set aside from the audio/video connectors; it is on the far left of the monitor (looking at the back panel). On the right half are the audio/video connectors. HDMI is a fairly new video standard which is capable of carrying audio, if your source permits it (such as DVD, PS3, etc). Next to the HDMI connector is the standard 15-pin VGA connection, and then we have an audio input and an audio output (marked for headphones).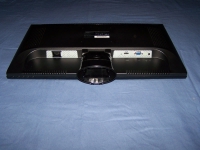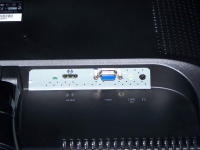 There is not much to the base, it is simply a way to keep the monitor standing upright.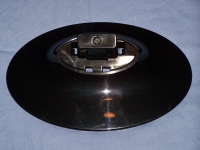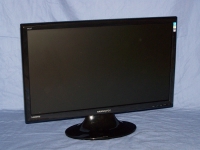 Comparison:
Pictures of an LCD screen do not always show the best view possible. How well the screen looks will greatly be determined on the eyes looking at it. With two other screens on hand rated for 1080P video, I connected all three monitors to a Playstation 3 (with the latest firmware) and played Blu-ray versions Star Trek (2009) and Casino Royale.
The screens I compared the Hannspree HF237HPB to included a Sceptre 23.6" X246-W and a larger Hanns-G 28" HF289HJB.
The image quality was very similar across all three monitors. The Hannspree HF237HPB was extremely bright, and I had to turn it down to be able to stand looking at it. During the action sequences there was no blurring or ghosting of the image, everything was perfectly smooth and flawless. Once the X-Contrast was enabled, the colors were more vibrant on the HF237HPB.
Audio quality was probably the biggest disappointment; however integrated monitor speakers shouldn't be expected to be as good as a pair of external speakers. The speakers sound very hollow and do not produce much sound. When playing games or running video through the computer the sound level was high and I was able to hear it easily over other noise. However, when I went to play a movie through the Playstation 3, I almost had to turn it up to 100% volume to hear the movie.