The Basics (continued):
They have also included front USB 2.0, headphone, microphone, and even USB 3.0 ports.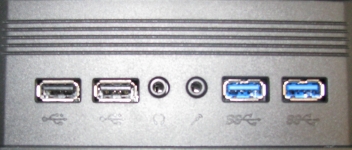 Behind this large mesh covering is that fan we were talking about earlier. I'm pretty sure it is large enough (200mm) to power a hovercraft, yet strangely it's almost completely silent - I'm sensing some dark magic at work here, but I like it! You can also see exactly how big the fan is by comparing it to a DVD laid at its center.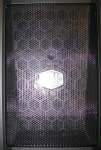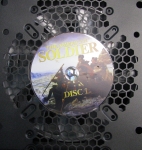 Speaking of magic, you can see here that when the system is powered on you can make the front fan glow red. Through the magic of LED lights and a switch on the top of the case.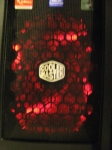 The switch on the left turns on and off the front fan LED, while the center one is your power switch. Very chic red and black color coordination.

As you can see they have continued the mesh theme of the case even on the top. They have also included another 200mm fan on the top of the case. Seems their design engineers understand that heat rises, and by putting an exhaust fan on the top like this you'll suck the hot air right out of the case.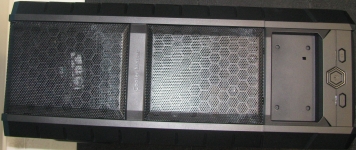 You may have also noticed on the top they included a nice little compartment and a rubber mat to go in it for holding things like your phone, iPod, napkins or whatever else you might decide to put on your computer. If the case is going under your desk (and it's really a shame if it does) then this is pretty meaningless for you.