Conclusion:
While I have been aware of the G.Skill brand for quite some time, this was my first chance to review one of their products. I wasn't sure what to expect and was never able to recommend them based on personal experience. The
G.Skill
Sniper 8GB 1600MHz DDR3 memory kit has changed that, as it works exactly as intended with no issues. The kit states it is designed for Intel P55 and P67 motherboards, but as the tests show it runs great on AMD AM3 systems, too.
The Sniper motif on the heatspreader may be slightly different from what we expect to see on memory, but it is visually appealing. Once installed you might not ever get to see the unique design since most people will only see the top edge of the memory, which is a disappointment as the Sniper motif is pretty cool looking.


The only true downside to the Sniper memory is that there is little to no overclocking possible. While it operates perfectly at its rated speed, having a little headroom available for overclocking is always nice to have when you are seeking to squeeze out just a little extra performance. And while we're talking about overclocking, it would be nice to see an XMP profile added to this kit in order to make getting up to 1600MHz even easier on compatible motherboards.
For those seeking the greatest performance from a 1600MHz DDR3 kit, perhaps focusing on a kit with tighter timings would be a good idea. The CAS 9 rating on this kit is about as vanilla as it gets, and there are plenty of 2x 4GB 1600MHZ DDR3 kits out there offering CAS 8 or even CAS 7 timings. Tighter timings not only offer greater performance at the default speed, but they give you more flexibility to loosen things up while overclocking.
Over at
Newegg.com
this kit currently sells for $95 (US), but is regularly on sale for as little as $70 (US), with free shipping. The $95 price isn't all that impressive, as there are plenty of 2x4GB kits in the $90-$100 range, but when you see it at $70 it becomes the lowest priced 8GB 1600MHz DDR3 kit they offer.
The G.Skill Sniper 8GB 1600MHz DDR3 memory kit receives the Bigbruin.com "Recommended" award for performing exactly as specified, providing a unique design, and outperforming other similar kits.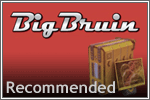 Pros:
» Unique design
» Good timings
» Great performance
» Lifetime warranty
» Low Price
Cons:
» No overclocking potential
» No XMP profiles
» Relaxed timings
Please drop by the Bigbruin.com Forum and feel free to post any
comments or questions
.