Configuration:
A system with the components listed below was used to test the
G.Skill
Sniper 8GB DDR3 memory kit:
» ASUS M4A89GTD Pro/USB3 motherboard
» AMD 1090T processor
» Thermaltake Frio CPU cooler
» eVGA GeForce 275GTX video card
» Kingston 128GB SSDNow V+ solid state drive
» Seagate 7200.11 1.5TB hard drive
» Seagate 7200.12 1.0TB hard drive
» LG Blu-Ray burner
» Corsair CS600 power supply
With the G.Skill Sniper memory plugged into the Asus M4A89GTD motherboard, it initially booted up at 1333MHz and it needed to be manually configured to run at 1600MHz. Once the speed was configured, the timings were verified by CPU-Z, as shown in the image below.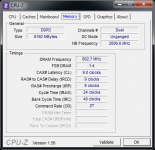 Overclocking:
The ASUS M4A89GTD motherboard allows memory up to 2000MHz DDR3, which could provide for some decent overlcoking of this 1600MHz kit before reaching the maximum the board supports. After enabling overclocking in the BIOS, the DDR3 was taken to 1800MHz at 9-9-9-24; the motherboard failed to post. So the timings were loosened all the way to 12-12-12-30 and the voltage increased to 1.6V; once again the system would not even post. Adjusting the FSB on the motherboard, and allowing it to adjust the speed of the memory, it failed to increase the speed of the memory from 1600MHz to 1667MHz. It appears that increasing the speed on the G.Skill Sniper kit will not happen.
Next, let's try to tighten the timings a bit. With the timings adjusted from 9-9-9-24 to 8-8-8-28, the system was able to post, but that is as far as it was able to go, and it would not boot into Windows. Any attempt to tighten the timings or overclock the memory was an utter failure.
Testing:
The test system listed above was used for the execution of all benchmarks, which include tests from these applications:
» Windows Experience (Windows 7 64-Bit)
»
Passmark Performance Test
7.0 64-Bit
»
SiSoft Sandra
Engineer 2011.SP1
»
AIDA64
Extreme Edition 1.60.1300
For comparison purposes, the G.Skill Sniper 8GB 1600MHz DDR3 memory kit was tested against two other dual channel DDR3 kits.
» PNY XLR8 DDR3 1600MHz 8GB (4 x 2GB)
» Samsung DDR3 1333MHz 8GB Generic (4 x 2GB)
Windows Experience:
The "Windows Experience Index" will analyze the performance of the processor, memory, graphics, and hard drives - but for this review we will focus on just the memory rating. Higher is better for these results, and the best possible score is 7.9.
The 7.7 score the G.Skill Sniper received is the best of the bunch, however it does show that there is still some room for improvement.