The Basics:
A closer look at a module from this kit shows the unique heatspreader design for
G.Skill
's Sniper 8GB 1600MHz DDR3 memory kit.


These black heatspreaders have a unique asymmetrical profile with a G.Skill Sniper graphic on both sides. Underneath we see that the PCB is also black.
One side of each module also features a label that identifies the specific module and its specifications.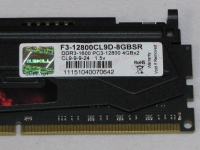 The top edge of the modules shows that the heatspreaders make good contact with the memory chips; which are on both sides of the modules. The heatspreaders are not a single piece, rather two pieces attached to the memory chips. Finally, on each end there appears to be a clip for something to snap into; however there is no documentation on what it could be and memory fans attach on the sides, not the top.