The Basics (continued):
To give you an idea of the size of the drive we compared it to other Seagate GoFlex products. In the image below, we have the GoFlex 500GB drive on top, the GoFlex Turbo in the middle, and the GoFlex for Mac 1TB drive on the bottom.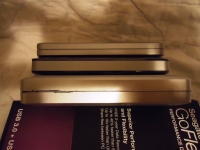 Configuration:
CrystalDiskInfo
reveals that Seagate is using their Momentus 7200.5 drive for the GoFlex Turbo, which is capable of 7200RPM with 16MB of cache memory. The drive has two platters and draws right around 2.4 watts at a full speed.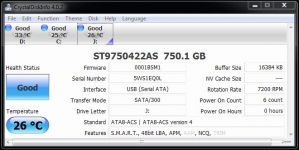 Software:
The Seagate GoFlex Turbo 750 comes bundled with a Seagate Dashboard, Memeo Instant and Premium Backup, and Memeo Sync. The Dashboard offers a heads-up look at the drives current capacity and by clicking on Drive Settings, you can do things like test the drive, turn on and off the connector LEDs, and adjust the power settings.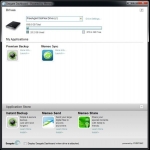 Clicking the icons on the Dashboard launches either the backup or sync programs. By default, Memeo Premium backs up just user data, not the Windows folder. It can be configured to add additional folders, should the user choose to do so. To backup approximately 20GB of user data on my machine only took a few minutes.