The Basics:
The Seagate GoFlex Turbo looks almost exactly like every other GoFlex drive we've reviewed, except for the piano black finish.


The top of the drive features a white Seagate logo, while the bottom only has a label identifying the drive as "FreeAgent GoFlex Pro" and has the product and serial number.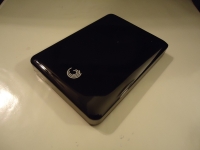 There is a silver band around the drive with the Turbo moniker prominently displayed - I was hoping this would light up during operation, but no such luck.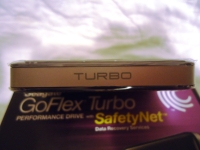 The rear of the drive looks like every other GoFlex portable product - with the drives SATA connectors out for the world to see - which provides easy access for the various adapters. As I've mentioned in previous reviews, I'd like to have a cover of some sort to protect the connectors during travel. With the potential audience being business professionals, a group who may travel frequently, the addition of a cover similar to what we saw on the
GoFlex Satellite
might be a nice value-added extra.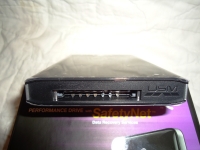 The image below shows the GoFlex USB 3.0 connector. With the exception that this one has a piano black finish, it is similar to other Seagate GoFlex adapters.