Conclusion:
During discussions with
Seagate
about the GoFlex Turbo 750GB drive, time and time again we heard the same thing - a hard drive's value is in the data, the drive itself is simply a commodity. For the first time in the industry someone has implemented that philosophy with the introduction of the Seagate SafetyNet data recovery service.
Tthe process is fairly painless - call Seagate, and after a diagnosis is obtained you'll be given instructions for shipping the drive back to Seagate in the original box. In about 2 weeks, you'll receive a new Turbo drive with your data on it. The SafetyNet recovery service is good for one data recovery attempt within the two year warranty period, and will set you back just $20 more than the retail price of their standard GoFlex 750GB 5400rpm drive. That seems like quite the bargain considering data recovery can run in excess of $1000 for a similar services I've worked with in the past. In the future I'd like to see Seagate offer this as a premium add-on service for all of their GoFlex drives. I think this would be a great value for a lot of users, especially those who use their drives for business or those folks who use these drives as their backup solution, a la Apple Time Machine.


The downside of the GoFlex Turbo is that during our tests, we got mixed performance results. While some of the tests showed a good bit of performance over the other two drives, a few tests showed it lagged - when it shined, it shined bright; when it didn't, it didn't lag by much.
Currently, the Seagate GoFlex Turbo 750GB USB 3.0 hard drive can be found on the shelves of your local
Bestbuy
for a very reasonable $119.99. This is only a $20 premium over the
regular GoFlex 750GB
drive that runs at 5400rpm and does not carry the SafetyNet Data Recovery Service warranty. In addition to the 750GB version, Best Buy offers the 500GB GoFlex Turbo for $99.99. While the price is appealing, one issue is that Best Buy was one of the only big name stores where I could find this drive. Being available at the likes of Newegg.com or Amazon.com would be nice.
In the end, the Seagate GoFlex Turbo 750GB USB 3.0 hard drive earns the Bigbruin.com "Great Idea" and "Recommended" awards for being the first in the industry to offer professional level protection in a professional level piece of hardware.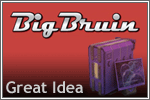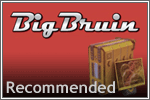 Pros:
» SafetyNet data protection included
» USB3.0/2.0 and Mac/PC compatible
» Works with every other GoFlex adapter
» Works with the
GoFlex TV HD Media Player
Cons:
» Only a 2 year warranty
» Data recovery not 100% guaranteed
» Mixed bag of performance
» Limited availability
Please drop by the Bigbruin.com Forum and feel free to post any
comments or questions
.