Conclusion:
All USB 3.0 drives are not created equal, but if they were, the
Seagate
GoFlex Slim wouldn't be a bad design to emulate. The variety of tests executed on the GoFlex Slim 320GB USB 3.0 hard drive confirm one thing... It is definitely fast! It consistently put up transfer rates in the neighborhood of 120MB/s, which is just the type of speed I have been hoping to achieve with USB 3.0, but haven't necessarily been able to achieve.
While testing may have been necessary to prove the performance claims regarding the drive, the other key selling point is blatantly obvious with just a casual glance. The GoFlex Slim lives up to its name, as it is ultra-compact in all directions, especially its thickness. At just 9mm thick it is about as thin as some bare 2.5" drives, but it still feels well made and solid enough to be used like a typical portable hard drive.


On the downside, there isn't much to say. It would be nice if a higher capacity version could be offered, but it is safe to assume that this might impact the size and/or performance.
The
Bigbruin.com shopping page
finds the Seagate GoFlex Slim 320GB USB 3.0 hard drive at a couple retailers for as little as about $84 (US), shipped. Digging deeper around the web finds it at Newegg.com for around $90 (plus shipping and tax). If all you are interested in is having 320GB of external storage, either price is pretty high. A basic USB 2.0 drive with a 320GB capacity could be had for 40% less, while other USB 3.0 drives with the same capacity might be 20% less. But, the premium price may be well worth it if high speed transfers are important to you.
The Seagate GoFlex Slim 320GB USB 3.0 hard drive easily earns the Bigbruin.com "Highly Recommended" award thanks to being ultra-fast and ultra-portable!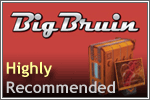 Pros:
» Ultra compact
» Extremely fast
» Solid construction
» GoFlex modular connection
» Requires just the USB 3.0 cable for power and data transfers
Cons:
» Premium price
» Only available with a 320GB capacity
Please drop by the Bigbruin.com Forum and feel free to post any
comments or questions
.