Testing:
CrystalDiskMark 3.0.1 x64:
We'll first take a look at the results from CrystalDiskMark 3.0.1 x64. This test provides four sets of results to detail the read and write performance of the drive in question. Units of measure are MB/s, and higher values are better.
The screenshot below shows the results for just the Seagate GoFlex Slim 320GB drive. We see that the sequential read and write speeds both easily eclipse the 100MB/s mark, which is definitely impressive.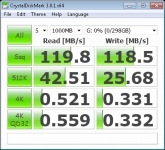 The three drives on hand were all run through CrystalDiskMark 3.0.1 x64, and the four charts below detail portions of their results. The first chart shows the sequential read results, where we see that the GoFlex Slim dominates. One knock against the 1.5TB GoFlex Desk was that it didn't truly live up to the excitement of USB 3.0 due to the 5400RPM drive inside.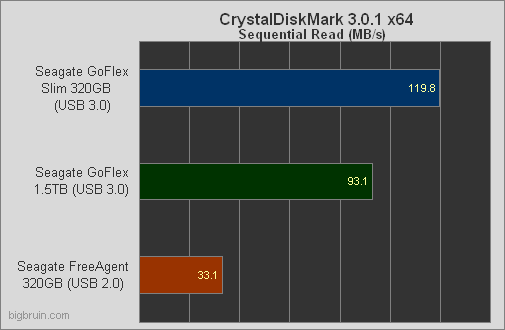 The sequential write results are shown in the next chart, and we see pretty much a carbon copy of the read results. The GoFlex Slim approaches 120MB/s in both cases, which is very impressive.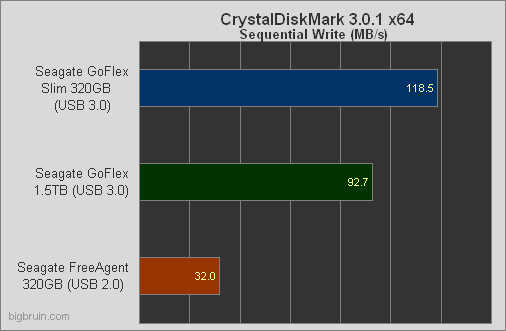 Read results for 512K transfers are shown below, and while the values have dropped off, the GoFlex Slim still holds the lead.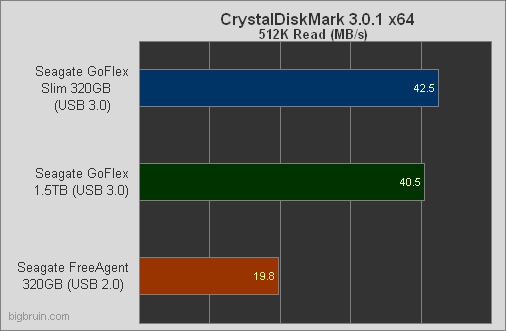 Finally we have write results for 512K transfers, and this time around things don't go as well for the GoFlex Slim. Even the USB 2.0 capable FreeAgent Go outperforms the GoFlex Slim.