The Basics (continued):
The bottom of the drive features even more smooth black aluminum, as well as a label with some drive specific information printed on it.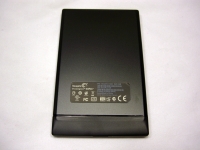 The next two images are provided for size reference. From left to right in the below left image we have a generic 2.5" drive USB enclosure (the smallest on hand), a Seagate FreeAgent 320GB drive, a Seagate GoFlex 1.5TB drive, and finally the Seagate GoFlex 320GB drive. In the below right image we see the same drives all stacked up. One thing is clear; the GoFlex Slim is definitely the thinnest drive of the bunch.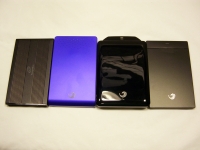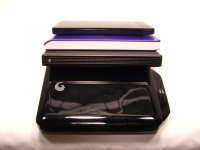 Configuration:
For this review the
Seagate
GoFlex Slim 320GB USB 3.0 hard drive was connected to a Windows 7 Pro system with the following core components:
» Intel Core i7-920 quad-core processor
» ASUS P6X58D-E LGA 1366 Intel X58 motherboard
» 6GB of Kingston HyperX 2133MHz DDR3 memory
» 128GB Crucial M300 solid state drive
The screen shot below is from
CrystalDiskInfo
, and is provided to confirm some of the drive's features. We see that it spins at 7200RPM, has 16MB of cache memory, and internally has SATA 3Gbps connectivity.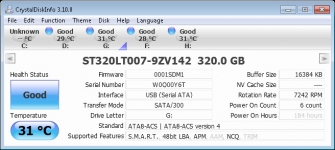 Test Setup:
For comparison purposes, the Seagate GoFlex Slim 320GB USB 3.0 USB hard drive was tested against two other external hard drives.
»
Seagate FreeAgent GoFlex Desk 1.5TB External Hard Drive
»
Seagate FreeAgent Go 320GB External Hard Drive
The GoFlex Desk drive will provide a good point of reference for USB 3.0 performance, while the FreeAgent Go will show us what a 320GB USB 2.0 drive has to offer. All drives were connected via the native USB 3.0 connections found on the motherboard during the course of the review.
The tests executed on the three drives include the following:
»
CrystalDiskMark
3.0.1 x64
»
ATTO Disk Benchmark
v2.41
These two drive-centric tests will give us a clear snap shot of just how fast the GoFlex Slim really is.