Packaging:
The
Seagate
GoFlex Slim drive is sold in the informative packaging shown below. The drive is mounted at the center of the box, and thanks to a three-sided window you get a pretty good view of it from a few different angles. This allows you to appreciate just how thin it really is. In addition to providing a good look at the drive itself, the various panels of the box provide plenty of information regarding the drive and what to expect from it.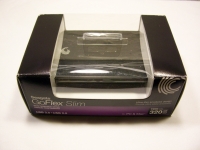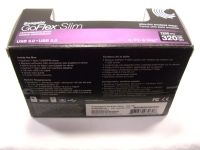 The Basics:
The image below shows everything included in the box... the drive and a USB 3.0 cable. You don't need an external power source, as all the juice it needs can be provided via the USB 3.0 cable. I suppose there is something else included, as there is software provided on the drive to install Seagate's Dashboard, as well as to register the product.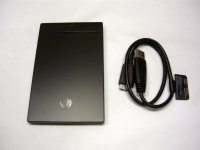 The enclosure is definitely compact, and it has an understated appearance with just a simple Seagate logo disrupting the black aluminum shell. The drive not only looks good, but it feels well made, too. The aluminum housing is rigid and it feels like the internal components will be well protected.


The GoFlex connector on the one end features the only light... a small white LED to indicate power/activity. As shown in the below right image, the USB 3.0 GoFlex connector is removable, and inside you will find a fairly standard looking combination of SATA data and power connectors.