We have looked at quite of few of
Seagate
's GoFlex drives and media products in the last year or so. From portable drives to desktop drives, and from networking systems to media players, each one has proven to be a very good performer. Their small footprint and interchangeable cabling system make them useful to just about everyone.


While it seemed they had just about every angle covered in the GoFlex series, there are even more products to consider. In this review we will take a look at one of the latest additions to this popular lineup... the Seagate GoFlex 1TB External Drive for Mac. Before taking a closer look at the sample provided for review, let's take a closer look at some of the published information on this drive, as taken from the
official product page
on the Seagate website.
Features:
» Includes fast FireWire® 800 and USB 2.0 plug-and-play connectivity
» Lets you take full advantage of your Mac computer's Time Machine® software so you can
automatically save and easily recover up-to-date copies of everything on your Mac
» Comes formatted for Mac computers but works on your PC computers too
» Makes it easy to read, write and share files interchangeably between both Mac and PC
computers with the included downloadable HFS+ driver for PCs
» Offers upgrade cables and kits that make it easy to move from FireWire 800 and USB 2.0 to
USB 3.0 or powered eSATA for up to 10x faster transfer speeds for your large files and HD movies
» Extends your digital life so you can access and share your files from anywhere by pairing
your drive with the GoFlex Net media sharing device
» View your movies and photos on your TV from your drive with the GoFlex TV HD media player
via the USB connection
Specifications:
» Model Number: STBA1000100
» Interface: FireWire 800 & USB 2.0
» Capacity: 1TB
» Spin Speed (RPM): 5400 RPM
» Warranty: 3 years
Physical Dimensions:
» Height: 120mm (4.71 in)
» Width: 89mm (3.51 in)
» Length: 22mm (.87 in)
» Weight (typical): 280g (.62 lb)
» Shipping Weight: .44kg (0.97 lb)
Packaging and Accessories:
The Seagate GoFlex for Mac arrived in a slightly different package than the other Seagate GoFlex products we've had the pleasure of testing - perhaps that is to differentiate it from its Windows counterparts. The front of the box has an image of the drive itself, images of a MacBook and an iMac, the specific interfaces the drive will support out of the box, and the capacity of the drive. Seagate shipped us the 1 Terabyte version, and there is also a 1.5 Terabyte version available. The back of the package reveals more information about the drive including the interoperability with Windows computers. And in case you forgot, more images of Apple products to remind you that this is the GoFlex for Mac.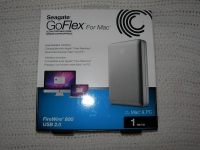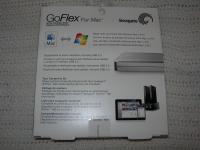 Once we open the package, we see that the Seagate GoFlex for Mac ships in a sturdy, but easy to open, clam-shell case. Other than the drive itself, which is tucked away in the very bottom of the packaging, there are also FireWire 800 and USB 2.0 cables. While the USB 2.0 cable is removable from the SATA interface, the FireWire 800 cable is not. Also, as we saw with our earlier GoFlex review products, you can use these cable with other SATA 2.5" drives - although Seagate frowns upon doing this. Lastly, we have a Quick User's Guide which shows you how to connect the cables to the drive and to your MacBook, iMac, or perhaps even your Windows PC.