Conclusion:
For the average home user, the
Seagate
GoFlex Home 1TB network storage system will be a nice addition to their network. It won't replace a more powerful server or NAS, but it is substantially cheaper and easier to manage. In addition, the GoFlex Home provides the ability to remove the hard drive from the dock and use it elsewhere with other GoFlex compatible devices.


For many people, a 1TB NAS will be more than sufficient to store their data. However, at the rate that reliance on digital data is increasing, 1TB is beginning to be rather small. With the Seagate Home, you won't need to purchase a larger NAS to add storage, simply purchase any external hard drive and plug it into the Seagate Home's USB port.
On the downside of things I have two issues. I expected the GoFlex Desk to work as an additional drive when connected to the GoFlex Home via USB, but it would not work. However, the expansion capabilities of the GoFlex Home worked flawlessly with other drives. Seagate states that the 3TB GoFlex Home is not yet supported by the GoFlex Home, and that they are working on an update that will fix that.
Checking our online shopping engine
finds that the Seagate GoFlex Home 1TB network storage system is available at various online retailers such as
Newegg.com
starting around $139.99. For a 1TB NAS this is an attractive price, and actually places it near the bottom end of the price scale.
Considering the price, performance, and ease of operation, the
Seagate
GoFlex Home 1TB network storage system earns the Bigbruin.com "Recommended" award.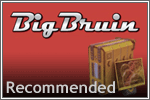 Pros:
» Gigabit Ethernet connection
» Can expand storage by adding additional external hard drive
» Compatible with GoFlex Desk drives
» Easily setup for the novice
» Share a printer across the network easily
Cons:
» Not currently available as an add-on to a GoFlex Desk drive
» Does not recognize 3TB GoFlex Desk as external drive (yet)
Please drop by the Bigbruin.com Forum and feel free to post any
comments or questions
.