Conclusion:
The
Seagate
GoFlex Desk 4TB USB 3.0 hard drive delivers exactly what we've come to expect from Seagate. The massive capacity could probably store your entire music, movie, and picture collections with room to spare - and with the USB 3.0 interface it can transfer it with lightening speed. The included software is more of a basic solution, similar to Microsoft Backup. If you want something a bit more robust you'll have to pony up $50 or find another third-party solution.


The only real downfall of the drive is the fact that it's a single hard disk solution. Having all of your data on a single device can be a great organizational tool, but if it fails, you'll lose everything. Unfortunately, there aren't many 4TB solutions on the market yet - at least not in a small, portable form factor like the GoFlex Desk. In order to achieve that capacity, you'll likely need multiple drives - and a lot more money.
A check of the Bigbruin.com shopping engine shows that the Seagate GoFlex Desk 4TB USB 3.0 hard drive can be found at
B&H Photo for $329
, however it can also be found at retailers such as Best Buy and Newegg.com for around $250, which is not a bad price for cutting edge storage technology with such a high capacity.
Given the capacity, performance, and convenience, the Seagate GoFlex Desk 4TB USB 3.0 hard drive earns the Bigbruin.com "Highly Recommended" award.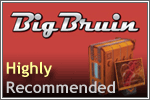 Pros:
» Good performance
» 4TB of storage in one fairly compact device
» PC and Mac compatible - without having to download software
» "Universal" dock works with most SATA drives
» USB 3.0 connectivity
Cons:
» All 4TB of your data is counting on the survival of just one drive
» Price/availability may be impacted due to current hard drive shortage
Please drop by the Bigbruin.com Forum and feel free to post any
comments or questions
.