Testing:
In order to test the Seagate GoFlex Desk 4TB USB 3.0 hard drive, we connected it to an external USB 3.0 port on the following system:
» Intel Core i5 2500K 3.3GHz processor
» ASUS P8P76 Rev 3.0 motherboard
» nVidia GeForce GTX 470 video card
» Micro Center G2 Series 64GB SSD
» Western Digital 1TB SATA 3Gbps hard drive
» Cooler Master EPS 12V 750 Watt power supply
» Windows 7 Home Premium 64-Bit operating system
We also used the following drives connected via the GoFlex Desk's USB 3.0 base:
»
Seagate GoFlex Turbo 750GB
» Western Digital RE4-GP 1.5TB
Results will be presented for the following tests:
» Real World File Transfers
» CrystalDiskMark x64 3.0.1
» ATTO Disk Benchmark v2.34
» AIDA 64 Extreme Edition v1.60.1300
Real World File Transfers:
To kick off our testing, we'll look at some real world scenarios. First, we copied our entire Office 2007 folder from a temp directory on our G2 Series SSD to the various drives three times. The folder contains 272 files and weighs in at 783MB. The results below are an average of those runs (with units of seconds, where lower is better). In this test, The GoFlex Desk was the clear winner but only by a few tenths of a second during writes.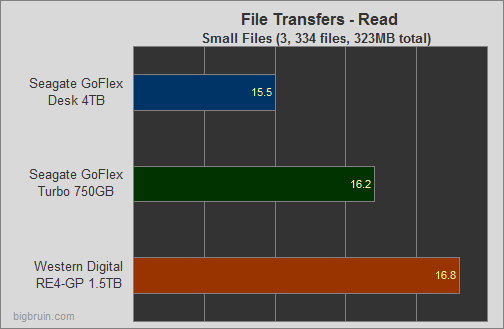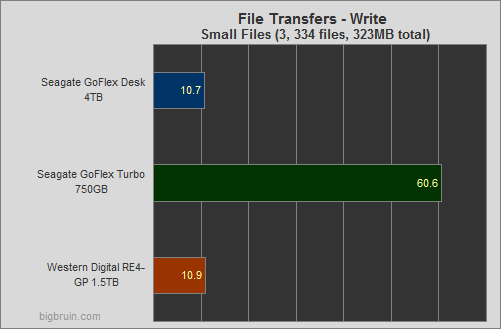 Next we followed the same procedure but this time used a single 3.8GB ISO file. In the write portion, the GoFlex Desk drive was the winner, but came in a close second in the read portion.