Seagate
's line of GoFlex drives have been a market staple for the last few years, and every few months a new drive pops up that pushes the envelope a bit further - whether it be from a storage capacity, performance, or feature standpoint. Recently, they sent along their newest desktop drive - the Seagate GoFlex Desk 4TB USB 3.0 hard drive, which combines the largest single drive storage capacity on the market with the fastest mainstream external connection, with all of the flexibility of the GoFlex family of connectors.


Before we get into the actual review, let's take a quick glance at the specifics of the GoFlex Desk 4TB drive directly from the
official product page
on the Seagate website.
Features:
» Ensures automatic continuous backup of your data
» Secures your backed up files and protects your privacy with powerful encryption software
» Includes the Seagate® Dashboard management tool for easy management of backup
schedules and file encryption, and viewing drive statistics
» Includes the GoFlex Desk USB 2.0 or 3.0 desktop adapter with illuminated capacity gauge
» Offers vertical or horizontal orientation to fit in any desktop environment
» Works interchangeably on both PC and Mac® computers
Specifications:
» Model Number: STAC4000100
» Interface: USB 3.0
» Capacity: 4TB
» Height :158mm (6.22 in)
» Width: 124mm (4.88 in)
» Length: 44mm (1.73 in)
» Weight (typical): 1080g (2.38 lb)
» Shipping Weight: 1.080kg (2.381 lb)
» Automatic Backup Software: PC & Mac
» Warranty: 2 years
» Encryption: 192-bit Triple DES
Packaging and Accessories:
The Seagate GoFlex Desk 4TB USB 3.0 hard drive ships in the very familiar packaging that we've seen with just about every other GoFlex product. The front bears the Seagate logo, a large image of the actual unit, the size and interface possibilities, and a blurb about the finer points of the product. The back of the box includes a more detailed image of the unit along with the numerous features in both English and Spanish.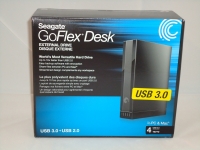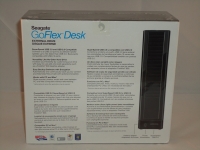 Included with the drive are the Seagate GoFlex Desk Quick Start Guide and a Limited Warranty pamphlet, which are pretty much standard issue these days. The image on the right shows the power adapter and USB 3.0 cable.