Seagate
launched their FreeAgent GoFlex series of external drives and accessories earlier this year, and the line up seems to have a new product every time you turn around. We've covered quite a few of the FreeAgent GoFlex items, from ultra portable drives to high capacity desktop drives, and from network based storage systems to high definition media players. This time around we have another "ultra portable" drive which is of interest due to the capacity... 1.5TB.


The Seagate FreeAgent GoFlex 1.5TB external hard drive is the subject of this review, and is shown in the promotional image above. While it packs a Terabyte and a half of storage space, physically it only occupies 4.71" x 3.51" x 0.87" of space. To further enhance the portability, using the included USB 3.0 adapter you can connect to either a USB 3.0 or USB 2.0 port with just one cable for data transfers and to power the drive.
Before taking a closer look at the sample provided for review, let's take a closer look at some of the features and specifications taken from the
official product page
on the Seagate website.
Features:
» Features USB 2.0 or 3.0 plug-and-play connectivity
» Includes pre-loaded easy-to-use backup software for PC and Mac
» Lets you upgrade to USB 3.0, FireWire® 800 or eSATA
» Allows you to access your content on your TV, network and on-the-go when combined
with other GoFlex devices
» 192-bit Triple DES encryption
» 2 year warranty
Specifications:
» Model Number: STAA1500100
» Interface: USB 3.0
» Capacity: 1.5TB
» Physical Dimensions:
» Height: 120mm (4.71 in)
» Width: 89mm (3.51 in)
» Length: 22mm (.87 in)
» Weight (typical): 280g (.62 lb)
» Shipping Weight: .44kg (0.97 lb)
Packaging and Accessories:
The packaging for the FreeAgent GoFlex 1.5TB external hard drive is shown in the images below, where we see the drive is in both English and in French. You get a few images of the drive, details regarding some of its capabilities, and confirmation that this is another Seagate product that includes a free copy of the 2009
Star Trek
movie.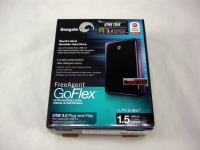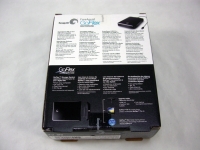 Inside the box you will find a clear plastic case which protects the drive, the pre-connected USB 3.0 adapter, and the USB 3.0 cable (hidden under the drive). The only other accessory included is the quick start guide shown to the right of the drive in the image below.