External Examination:
The front of the case is fairly straight-forward. Power, reset and fan control buttons are there, along with microphone and headset jacks, two USB ports and one eSATA port - a welcomed addition for those who don't have a motherboard with that particular port built-in. Around back we see the cutout for the I/O shield, the seven expansion slot covers, the power supply cut-out, and a mount for up to a 120mm exhaust fan.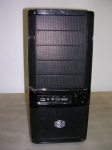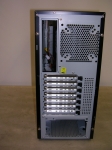 Cooler Master
has decided to go with a very glossy panel that extends from the main front of the case by a few centimeters giving it a nice aesthetic appeal. The rest of the front panel is mesh and a slightly less glossy black plastic.


The front bezel is easily removable and has no attached wires; perhaps a trivial thing, but a giant pet peeve of mine is having a removable bezel that is tethered to the chassis by wires. As you can see from the below left image, each of the bay covers has its own filter. There may be a bit of work involved getting them out, but you can remove them for cleaning, should you desire. The below right image shows that the side of the case has mounts for two more fans, supporting up to 140mm units.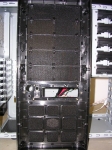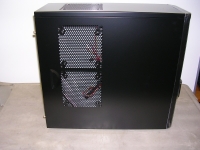 The top of the case holds a 140mm blowhole fan, which Cooler Master has kindly included.