The Basics:
Out of the box, the Genius Ergo 8800's general style and shape aren't anything too out of the ordinary. From the overall shape, to the color scheme, to the location of the buttons - this looks much like many other mice on the market.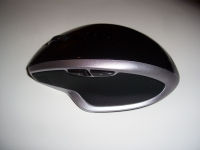 While many mice are designed to support 3 or 4 fingers, this one is a bit wider and provides grooves for your ring finger and pinky finger to ride along, too. With what I would consider an average sized adult male's hand, I found it to be comfortable, but perhaps just a bit too wide. Just above the area where your thumb rests we find a pair of buttons that can be used to navigate one page back and one page forward.
On top of the mouse we have the typical left and right mouse button, separated by a scroll wheel. This wheel is a bit more embellished than many others, and resembled a car wheel to me in some ways. It features a chrome rim with a rather off-road ready tread pattern to make sure your finger gets good traction. Behind the scroll wheel are two buttons, one of which allows you to change the resolution, and the other activates its high speed scrolling mode.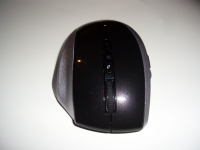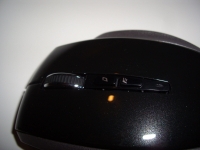 The bottom of the mouse features the laser tracking mechanism, an on/off switch, a compartment to use two AA batteries, and the Stick-N-Go connector. The Stick-N-Go connector is a simple little cut out shown in close detail in the below right image.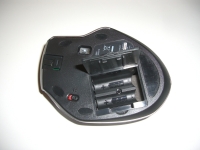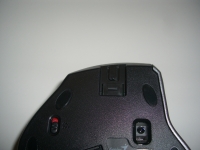 Stick-N-Go can be used to mount your mouse to your laptop, monitor, etc thanks to the included adapter. This little piece has double-sided tape to make it semi-permanent on whatever surface you choose. Then, simply click your mouse on to the adapter when not in use. In addition, the USB pico adapter also fits in to the Stick-N-Go connector in order to keep your mouse with its adapter. Unfortunately, you can not store the USB pico adapter while also storing the mouse on the Stick-N-Go adapter.